Do you know about the Facebook reminder feature?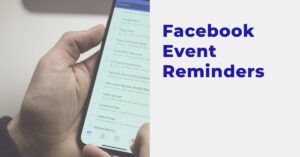 Did you know that if you include a date and time in a Facebook Messenger message, you can use it to generate a Facebook Reminder for everyone in that conversation thread?
Facebook will automatically send this reminder via Messenger to everyone who is a part of the conversation thread.
Reminder on Facebook Messenger
Facebook Messenger is an excellent iOS and Android smartphone app designed for group communication.
With almost one billion users, Facebook Messenger will help you connect with most of your friends and allow you to chat and send messages, photos, stickers, videos, and links in a convenient way.
Users can use Facebook Messenger reminders to generate a notification directly from their conversations. Thereby ensuring that no one forgets it.
Must Read: Fix Facebook Aid Disabled for Unusual Activity
Events Reminder on Facebook
Setting a reminder through Facebook Messenger is a handy Facebook feature.
It is possible to set up Facebook Reminder for those you want to remind about upcoming activities.
Also, Read Birthday Notification Settings and Troubleshooting Here
How to Set Reminders in Facebook Messenger
To set a Facebook reminder, follow the steps below:
Open the Facebook Messenger app.
Open up a conversation that includes a date and time in it.
The text recognized as the date and/or time will be automatically underlined by Facebook Messenger.
Tap the underlined text.
Choose Set Event Reminder if you want the reminder to go off at the exact time, or
Choose a Different Time if you want it at an earlier time before the set event.
If you select the latter option, you can set the reminder for any desired date and time.
After that, the reminder will appear at the top of the screen while the conversation is open.
You may want to click on it to give the reminder a title for easy appreciation.
How to View Upcoming Reminders and Events on Facebook
You can view event reminders on the Messenger app, PC and other Facebook Messenger options. View your upcoming events as follows:
Open up your Facebook page.
Click on "Menu" (on the left-hand side of the page) and select "Events."
You will access past and future events listed on the Events page.
Select any for immediate action – adding notes or modifying.
How to turn off notifications for an event on Facebook
To stop notifications for an event that you're interested in:
To turn off notifications for an event that you've responded to with Interested, Going or Maybe:
From your News Feed, click Events in the left menu. You may have to click See more first.
Go to the event that you responded to.
Click more (…) and select Notification settings.
Select Off to stop receiving all notifications.
Click Cancel (X) in the top right.
With this simple guide, you can now add, view and cancel an event reminder on Facebook.
Read more:
Download Facebook Dating App for APK iOS and PC Versions for Free | Facebook Dating App Download
Facebook Messenger App Download Install – Chat Messenger Lite Download 2021
How to View Blocked List of Friends on Facebook
Datevast Facebook Commentss