Do you know about the Facebook reminder feature? Here is a well-researched guide for you.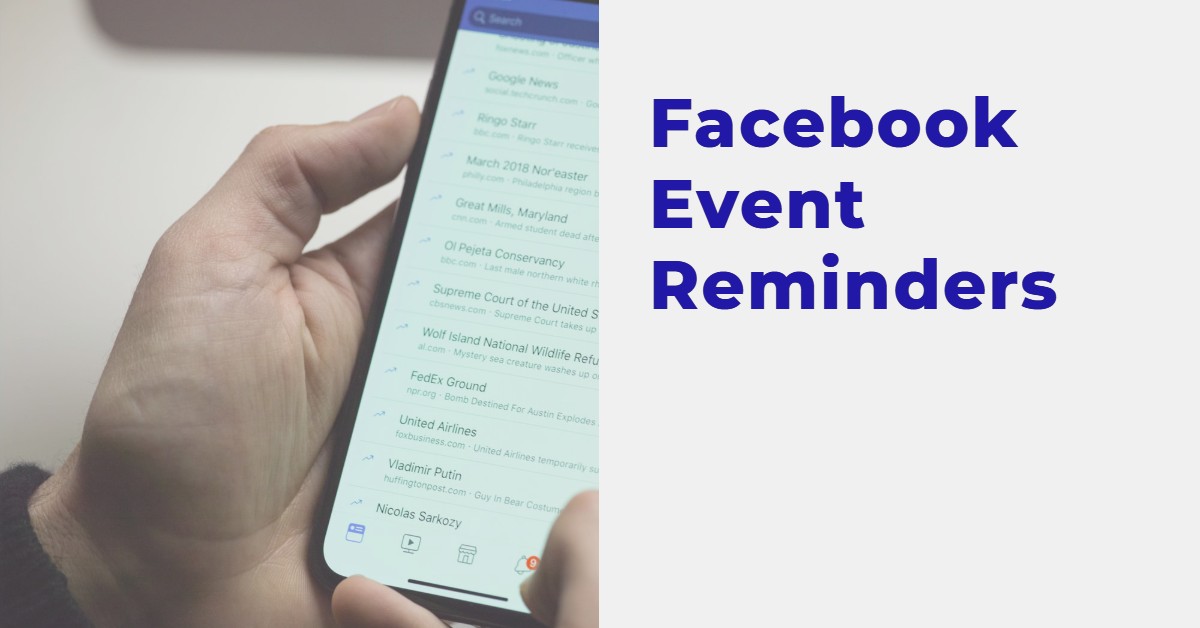 The ability to set reminders on Facebook will help you stay abreast of events around you.
Did you know that if you include a date and time in a Facebook Messenger message, you can use it to generate a Facebook Reminder for everyone in that conversation thread?
Facebook will automatically send this reminder via Messenger to everyone who is a part of the conversation thread.
The reminder feature allows you to schedule an event reminder that will be delivered instantly to group members.
Reminder on Facebook Messenger
Facebook Messenger is an excellent iOS and Android smartphone app designed for group communication.
With over one billion users, Facebook Messenger will help you connect with most of your friends and allow you to chat and send messages, photos, stickers, videos, and links in a convenient way.
Users can use Facebook Messenger reminders to generate a notification directly from their conversations. Thereby ensuring that no one forgets it.
Must Read: Fix Facebook Aid Disabled for Unusual Activity
Events Reminder on Facebook
Setting a reminder through Facebook Messenger is a handy Facebook feature.
It is possible to set up Facebook Reminder for those you want to remind about upcoming activities.
Read Here: Birthday Notification Settings and Troubleshooting.
How to Set Reminders in Facebook Messenger
To set a Facebook reminder, follow the steps below:
Open the Facebook Messenger app.
Open up a conversation that includes a date and time in it.
The text recognized as the date and/or time will be automatically underlined by Facebook Messenger.
Tap the underlined text.
Choose Set Event Reminder if you want the reminder to go off at the exact time, or
Choose a Different Time if you want it at an earlier time before the set event.
If you select the latter option, you can set the reminder for any desired date and time.
After that, the reminder will appear at the top of the screen while the conversation is open.
You may want to click on it to give the reminder a title for easy appreciation.
The Facebook Reminder feature is super helpful and user-friendly.
How to create a Facebook Messenger reminder
Launch the Facebook Messenger app.
Tap the group conversation that you wish to remind.
Select the "+" button beside the message text area.
Tap "Reminders" from the menu listing. It has a bell shape.
Tap "Create a Reminder."
Input the title, date, time and location (optional).
Tap or select "Create."
With that, you have successfully created and enabled the Facebook reminder.
You can update it subsequently, and Facebook will instantly edit it for other group members. At the scheduled time, Facebook will push out notification messages to other group members to partake in the chat.
How to Delete Facebook Messenger Reminders
If an event is postponed, canceled, or rescheduled, you can easily delete it from Facebook Messenger. Here is how to delete reminders on Facebook Messenger:
O the Facebook Messenger app on your mobile device.
Navigate to and select the group conversation that contains the reminder.
Click on "Delete" to delete the reminder.
Congrats! You were successful in removing the reminder.
How to create an Event on Facebook
The Facebook event feature helps to update everyone about future activities.
Here is how to create an upcoming event on Facebook:
Navigate to the "Events" tab on your mobile device or desktop browser. It can be found on the left menu toolbar of a web browser or the hamburger icon if you use the mobile app.
Choose either "Create" or "Create an Event."
Select "Private," "Group," or "Public" as the event type.
Enter the title, time, date, and location, as well as any additional information.
When you're finished, click "Create."
Congratulations. You have successfully created a Facebook event.
How to View Upcoming Reminders and Events on Facebook
You can view event reminders on the Messenger app, PC and other Facebook Messenger options. View your upcoming events as follows:
Open up your Facebook page.
Click on "Menu" (on the left-hand side of the page) and select "Events."
You will access past and future events listed on the Events page.
Select any for immediate action – adding notes or modifying.
How to turn off notifications for an event on Facebook
To stop notifications for an event that you're interested in:
To turn off notifications for an event that you've responded to with Interested, Going or Maybe:
Log in to your Facebook account.
From your News Feed, click Events in the left menu. You may have to click See more first.
Go to the event that you responded to.
Click more (…) and select Notification settings.
Select Off to stop receiving all notifications.
Click Cancel (X) in the top right.
If you want to stop notifications from an event that you're not interested in:
You simply decline the invitation when you respond.
How to choose what you get notified about on Facebook (Facebook events notification)
Choose what you get notified about by:
Clicking your profile picture in the top right of Facebook.
Select Settings & privacy, then click Settings.
Click Notifications on the left-hand side.
Click to adjust how you get notifications and what you get notified about.
Other Exciting Facebook Messenger Concepts (Besides Creating Event Reminders)
It is now evident to you that there is an in-built reminder on Facebook Messenger. The reminder functions in group chats and can function as a group reminder. It is very important when you are scheduling a meet-up for friends, a couple of friends via messenger. It is easy to set up a Facebook messenger reminder.
Not only that, Facebook Messenger is a well-rounded app with a few unnoticed features.
Must Read: Facebook Messenger App Download Install – Chat Messenger Lite Download 2023
Here are some Facebook Messenger ideas and interesting features.
1. Snapchat on Facebook Messenger
Facebook Messenger has an interesting Snapchat-style image tool that allows you to take a photo and add emojis, messages, or artwork before sending it.
Here is how to go about it:
Start a chat with the person you want to share the image with, then grab the image, right-click on it, and apply as many funny filters as you want. When you're finished, send it.
When participating in a Facebook live chat, you can use filters and humorous animations such as bunny ears. To get started, tap the emoji icon in the bottom right-hand corner.
2. Soccer on Facebook Messenger
Do you want to play the game Keepy Up with your friends? Send them a football avatar and tell them to click the ball when they get it. Tap and hold the ball to keep it up. The longer you do it, the harder it becomes.
3. Holding a video conference via Facebook Messenger
Did you know you can host video chats with a large group of people? Begin a group chat on Facebook Messenger and then click the phone icon in the blue box. The video call will begin in a few moments.
With this simple guide, you can now add, view and cancel an event reminder on Facebook.
Read more:
Download Facebook Dating App for APK iOS and PC Versions for Free | Facebook Dating App Download
How to View Blocked List of Friends on Facebook