Hey guys, today, I will be showing you quickly how to clear your Facebook search history – all your Facebook searches cleared.
If you want to learn how to achieve this, please keep reading this article to learn more about yourself.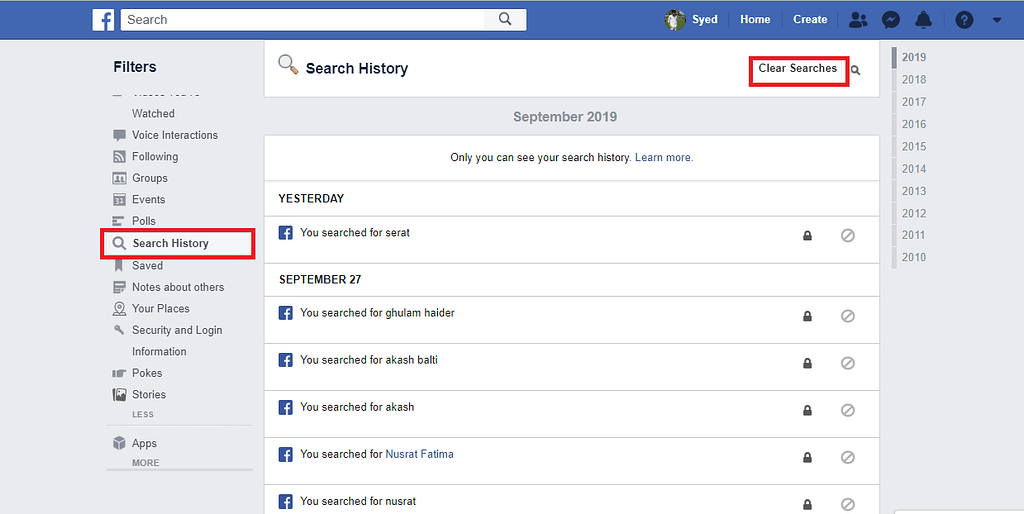 Just as in our previous article, we take great pleasure in making difficult things simple, so that those who aren't too familiar with how to navigate through their Facebook accounts may swiftly solve their problems without resorting to the Facebook help website. Let's get started if you're ready.
Who do I contact to delete my Facebook browsing history? This is a question that most individuals have asked themselves at some point in their life, with no idea how to answer it.
Two things come to mind when it comes to enhancing your Facebook security. The first is to uninstall any third-party programs you may have installed on Facebook, while the second is to clean your Facebook history. We'll try to show you how to do things right now.
Why Would I Want My Facebook Search History Cleared?
You won't have to clear your Fb search history, however, there are several reasons why you might want to. Here are some reasons why it might be useful.
Confidentiality:
You may want to keep specific searches concealed from other users who use your Fb account without your permission. This is a great way to keep things a little more confidential.
Priorities have shifted:
If you've been searching for things connected to a prior interest on a regular basis, you might wish to quit now that the interest has passed. An easy approach to do this is to clear your search history.
To be tidy:
You can opt to remove your search history on a consistent schedule out of practice. This technique allows you to clear your social media history with ease.
How To Remove Third-Party Apps On Facebook
To remove the third-party apps on your Facebook, simply follow the procedure below:
Log into your Facebook account and click on the menu button at the top right corner to show the drop-down menu.
On that menu, select Settings and then chose the Apps and Website column. Upon clicking on this, a window like this will appear.
Click on the checkmark boxes close to all the apps on your Facebook and then click on the Remove button to remove all of them. It's as simple as that.
Haven't done that, let's look at how to clear your Facebook search history.
How To Clear Your Facebook Search History on Mobile

Remember that erasing Facebook's search history only makes sense if you're accessing Facebook from a browser that isn't your own. The rationale for clearing the history is that if you leave, someone else can use it to access your Facebook account without having to enter your password again. You don't want something like that to happen to you, do you?
Once you are logged into your Facebook account, simply click on your profile to open the profile page.
On this page, locate your activity log, and click on it.
Once the activity log opens a menu at the left corner of the screen as can be seen below.
Click on the more option to load more windows as can be seen below.
From this window, click on the search history column. Once you do this, you will see all the things you have ever searched for on Facebook.
From these windows, as can be seen below, you can either choose to delete your Search history individually by selecting the ones you need or chose to delete it all at once.
Clicking on that sounded object will allow you the option of deleting each of the histories. So you see, it's really easy, right?
 How can I delete my Facebook search history on a PC
1. Access your profile section on Fb using any web browser on your PC or Mac. Select "Activity Log." in the lower right-hand corner of your profile pic on your Facebook profile.
2. On the left column, select "More" below "Comments"
3. Select "Search History." from the expanded menu.
4. Select "Clear Searches." from the menu settings near the top right corner. You can also erase an individual search item by clicking the delete button beside it.
5. Affirm that you want to delete all searches by clicking "Clear Searches" once more.
How to Clear Your Facebook Search History on iOS
You can easily choose to wipe your Facebook search history via the Facebook IOS app. Knowing where to look makes things much easier. Here's what you should do.
Start by launching the Facebook application.
Select the magnifying glass icon from the drop-down menu.
Choose Edit.
Select Clear Searches from the drop-down menu.
Facebook's iOS app features a search bar that is clearly marked.
This will delete your search history right away.
How To Clear Your Facebook Search History Instantly With Clear History Button

Remember when Facebook promised that users would be able to wipe the browser data it uses to provide tailored adverts almost two years ago? It's officially here, after the slowest rollout of all time.
On Tuesday, Facebook switched on the toggle and gave everyone access to the "Off-Facebook Activity" menu. It's been accessible to users in selected countries, like Ireland and South Korea, since August, but it's now open to every Facebook user.
First and foremost, you can locate it in the Facebook mobile application's account settings immediately.
It's quite self-explanatory after you've arrived. You'll get a rundown of every website or app that Facebook monitors while you're not currently on Facebook if you want to modify your off-Facebook activities.
It's still suspicious and strange that Facebook gathers data from those websites and applications, and you now fully understand how, when, and also how many times Facebook harvests data.
There's a huge "Clear History" box underneath if you just need to wipe away data. Facebook says that doing so may sign you out of platforms that require a Facebook login, such as Spotify, but that you can simply log back in. Unless you actively opt-out, which is not yet an alternative in the "Manage Future Activity" section of the menu, it will continue to collect data from those websites in the future.
If you opt out of data collection, Facebook claims you'll still see the same amount of advertising, but it will be less tailored. There's one important caveat: the data is just "disconnected" from your profile, not completely erased from Facebook's servers. That is, according to Facebook's statement from August.
Security Against Potential Hacks
Although your search history makes it easier to find the things you're looking for, keeping such information on Facebook is generally a bad idea. You can protect yourself from hackers by regularly deleting your search history and Activity Log. Do you have any additional suggestions for deleting your Facebook search history? Let us know what you think in the comments area below.
---
How do I delete a search from my Facebook activity log?
A record of the items you searched for on Facebook is kept in your activity log. Please remember that your activity history is only visible to you.
To delete one search, follow these steps:
In the upper right side of Facebook, tap account.
Then, under Settings and privacy, tap Activity log.
Under Activity log, go to Logged actions and other activities.
Select Search history
Finally, besides the search, if you wish to delete, tap more, and then Delete.
To clear all searches, follow these steps:
In the upper right side of Facebook, tap account.
Then, under Settings and privacy, tap Activity log.
Underneath the Activity log, tap Logged actions and additional activity.
Select Search history from the menu.
In the upper right-hand corner, tap 'Clear searches' to clear all search items.