Are you looking for a way to delete a Messenger contact? No need to worry, here is the solution.
I don't know why, but there is no more delete or remove button for getting rid of a Messenger contact. There are lots of weird things which is stopping users from using the Messenger application in the future.
Also see: How to Fix Facebook Messenger Message Sent But Not Delivered
Just think about it why Facebook Messenger doesn't let you easily delete the contact? They are just doing what they like and what they want.
Anyways, there are lots of alternative methods you can follow to remove or delete a Messenger contact.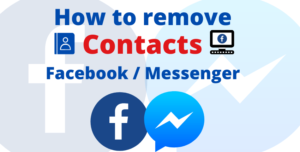 Here you will learn how to remove Messenger contacts in your friend list, non-friends, and also your phone's contact (non-Facebook friends) that is the auto-synced contacts.
Essential Update: The Messenger is updated and the People icon is available at the bottom middle of the app. However, you can tap the contact icon and find the contact you want to remove.
How to Remove a Messenger Contact from your Friend List
The step-by-step instructions below are an alternative method because there is no such option or button or any proper method to get rid of contact on Messenger. Therefore, bear this in mind before progressing.
Open Messenger.
Tap the people icon at the bottom middle.
Tap the contact icon at the top beside the avatar with the plus (+) sign.
As you can see in your contacts list, now, select any contact you want to delete or remove.
Tap on the Message button, after the chat opens, then tap on the info icon at the top right corner.
Scroll down a little and tap on the Block option.
Tap the block button (round block minus icon) to "Block on Messenger" and "Block on Facebook".
After you tap the "Block on Facebook" button, a browser will open or tap the one installed on the popup screen.
You will be redirected to Facebook and finally tap the Block button to confirm.
That's all, the above procedures are what you can do right now to delete Messenger contacts. Blocking is the only solution to get rid of unwanted people on Facebook and Messenger.
Related: How does blocking work in Messenger?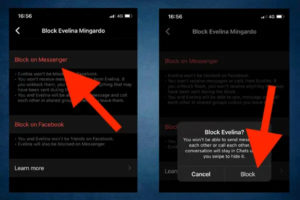 The blocking tool removes a contact from your list. The only difference is that a removed contact can't text you again unless you're friends on Facebook. He/she can't find you, request you, message you, etc.
How to Remove a Non-Friend from Messenger Contacts
There is an option in Messenger called "Upload contact". When the upload contacts option is enabled, your phone's contacts continuously sync. Though you and that contact may see the suggestion from Facebook and might send your Message requests.
You can either ignore the messages or undo the ignored messages. But to remove that contact that is not on your friend list, please follow the steps below:
Open Messenger.
Now, find those friends you want to remove by tapping on the people icon at the bottom middle, then the contact icon at the top.
Tap on the info icon of that friend.
Tap Remove Contact, then REMOVE to confirm.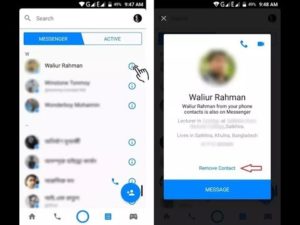 That's it, now you have just removed the contact from your contacts list on Messenger. The contact will never appear as an active friend and never send you messages or requests again.
Furthermore, there is an option to bulk remove non-facebook/non-messenger friends.
How to Bulk Remove Non-Friends from Messenger Contacts
This step is optional and depends on your choice. If you are tired of unknowing message requests then the bulk remove option is for you. The steps below would help:
Open Messenger.
Tap on the profile picture at the top left.
Scroll, when you see the people option, tap it.
Tap on Manage contacts.
You will see the all non-friends list, just tap the Delete All Contacts option.
It should delete all the non-friends from your Facebook Messenger contacts list.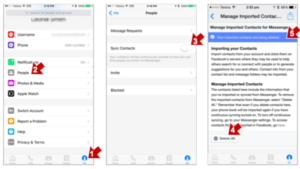 You may get an error (#5900), just don't mind and ignore it. The error is because, when deleting a friend that possibly blocked, ignored, and blacklisted you. Now it is important to avoid future automatic contacts sync/import in Messenger.
How to Stop Automatic Contacts Sync on Messenger
To stop seeing unwanted people in your hidden inbox or message requests. Also, to stop seeing strangers in the active list on Facebook Messenger, then you need to block the future automatic contacts syncing on Messenger.
Open your Messenger app.
There is your profile picture at the top left, tap on it.
Scroll and then tap on people.
Tap on Upload contacts.
Then, tap the TURN OFF option at the bottom.
Read more: How do I remove contacts I imported to the Messenger app?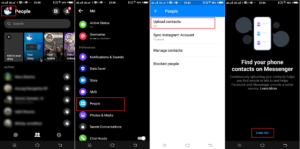 Please, following the above steps will also remove all previously uploaded phone contacts at once.
How to Unfriend Someone on Messenger
It is easy and simple to unfriend someone on Facebook Messenger. Alternatively, you can block them which is also sort of unfriending.
Please note that this will permanently delete the friend or contact from Messenger. Please follow the instructions below to unfriend someone with ease:
Open Messenger app
Find the person you want to unfriend.
Tap on his profile picture and the chat will open.
Tap the info icon at the top right corner.
Tap on the Profile option under his/her name.
Tap the VIEW PROFILE ON FACEBOOK option.
Tap the Friends icon, then tap the Unfriend option (in red colour).
On the confirmation popup, tap the CONFIRM option.
This will permanently delete the friend or contact from Messenger.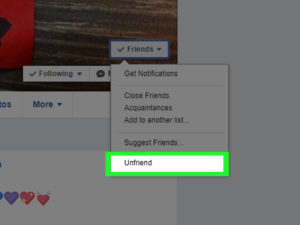 The above steps are for those who don't know a person's profile on Facebook and want to unfriend the person. If you do know a person's profile on Facebook and want to unfriend the person, just skip the above step 1 to 6 and follow steps 7 and 8.
How to Remove Someone from Messenger Group
The process of removing someone from a group conversation in Messenger is easy. Please follow the steps below to remove someone from a group on Messenger:
Open Messenger.
Then, open the group conversation.
Tap the profile picture of the person you want to remove from the group.
Tap the Remove from Group option. This should remove that person from the group, and you may see a notification as well.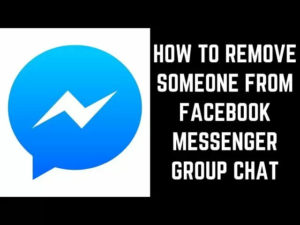 Update: How to Remove Someone from Messenger
As I mentioned earlier in this article, that Messenger is now updated. Therefore, you might face trouble while following the above steps. However, I thought I should update this article with the info and procedure. As of now April 2020, to remove someone from your Messenger app:
In your Messenger app, tap the people icon at the bottom.
Tap Contact at the top.
You will see the All People list.
Find and tap the info icon next to the person's name you want to remove.
Tap Remove Contact to confirm.
Delete Someone from Messenger 2020
You can delete anyone from Messenger, but the latest version makes it difficult. Facebook has deleted various options, including delete contact. Blocking someone now deletes them from Messenger.
Also check: How do I upload my contacts to Messenger?
Therefore, you will only the see info icon next to a contact name if the contact is from your phone contacts and non-friend. Now, when you tap it, you will see the option to Remove Contact.
However, for friends on Facebook Messenger, there is no such option. The only solution is to unfriend him/her on Facebook and Messenger or block him/her on both platforms.
In conclusion, that's how you can remove someone from the Facebook Messenger app. Note that if you are not able to remove someone, then, blocking the person is the only solution. Blocking will remove that person from your contacts list.
Blocking, Ignoring or Muting People on Facebook Messenger
The notifications can go wild if a user has multiple active group chat sessions on Messenger. Muting a chat thread allows users to put conversations on hold without removing them from their inbox or marking them as read.
To mute a Messenger chat, hold down the long-press button on a thread and then hit 'Mute.' You can mute message notifications, call notifications, or even both. You can also set a time restriction for the muting.
Avoiding someone on the application with the 'Ignore' button is a solid way to take a visual break from them.
This option is a notch up from muting and archiving because it sends a chat with a person or group to the 'Message Requests' section in the Spam folder.
This is where texts from users outside of a user's contact list go, and it's a great place to go when taking a break from Facebook Messenger isn't an option to avoid responding to bothersome contacts.
Ignoring a chat will silence the contact's message notifications, and the user will be unaware that the conversation was ignored and transferred to Spam.
To ignore, do the following:
On an iPhone, swipe left on the conversation thread gently, then hit 'More' (three-dot icon).
To access the menu on an Android smartphone, long-press the thread. Select 'Ignore.'
Tap the Profile icon, then 'Message requests,' and finally the 'Spam' tab to browse ignored chat conversations.
Replying to a thread will return it to the list of current chats.
Blocking people is the most aggressive way to trim a user's contact list and ensure security on Facebook Messenger. This usually happens when a Facebook user desires zero contact with another user on the messaging platform.
To do so, go to a user's chat thread and then press on their Profile symbol. Tap 'Block' at the bottom of the page.
Blocking on Messenger does not imply blocking on Facebook, therefore if that user is a Facebook friend, his/her Facebook activities will still be visible. Blocking someone on Messenger does not prevent them from participating in group chats or Messenger rooms.
Tap on a group chat thread, then the conversation's name, if you need to exit a group.'Leave chat' can be found by scrolling down
If you're going to block someone, make sure it's for a good reason. The process of unblocking someone on Messenger is more complicated and requires a web browser.
Remove Contacts from Facebook Messenger FAQ
Will this person know when he/she is removed from Messenger?
After you've deleted a contact from Messenger, you're undoubtedly wondering if the user will be alerted. So whether or not you've blocked or unfriended a person on Facebook, the answer is the same.
If you've restricted a friend on Messenger, he/she simply won't be able to see your profile or send you a message once you've blocked him/her. As a result, he/she will be aware that he/she is most likely blocked by you.
Instead of unfriending someone on Facebook, he/she won't be made aware of your decision. However, the "Add Friend" box will reappear when he/she visits your Facebook page, which is an indication that you may have unfriended him/her.
The Messenger app will not notify the user that the contact has blocked or unfriended him/her in either of these scenarios.
This is all on How to Remove Contacts from Facebook Messenger. I have explained in detail all the things I know about removing, deleting, blocking contacts, etc. from the Facebook Messenger app.
What's the best way to see who's online in Messenger?
Users that have a green light symbol on the bottom left side of their profile photo are on Messenger or Facebook and have been recently active.
When you switch on your Active Status, your friends and contacts on this profile will see you as active, recently active, and presently in the same chat as you.
Can I send messages to those who don't have the Messenger app?
Yes. Even if they don't have the Messenger app, you can still communicate with them via Instagram and Facebook.
Whenever they sign into Fb on their desktop, they'll be allowed to see your messages or calls.
Keep in mind the following:
Instagram users will not be able to send or receive messages or calls if they do not have the Messenger app installed on their phones.
Only the Messenger app supports cross-app messaging.
If we're not Facebook friends, how do I chat with my mobile contacts on Messenger?
You may import your contacts into the Messenger app and afterwards chat them directly from the app.
Verify your contact number on Messenger to allow those who have your phone number to send you a message.
To authenticate your phone number in your app, follow these steps:
Open the Messenger app on your phone.
Tap your profile photo in the top left corner of Chats.
Select Add Mobile Number
Please provide your phone number
Select Next
How can I import contacts from my smartphone or other networks into Facebook?
To add your Android contact list to Facebook, follow these steps:
Select the menu on the upper right side of Facebook,
After that, go to Settings & Privacy, and select Settings,
Select Upload Contacts after scrolling down to Permission,
Select Continuous Contacts. Enable the Upload option, then select Get Started.
To add your iPhone contacts to Facebook, follow these steps:
Select Menu in the lower right corner of Facebook,
After that, go to Settings & Privacy, and select Settings,
Select Upload Contacts after scrolling down to Permissions,
Select the Upload Contacts toggle… next click Get Started.
I don't know why someone received an invitation to join Facebook from me.
When you add your contacts to Facebook, you have the option to send them an invite to join.
Please notify Facebook if anyone has received an invite from you that you did not intend to send.
If you don't want to get any more invitation reminders for the people you've already invited, you may remove them from the list of contacts you've uploaded.
Hope you find this information helpful? Please use any of the share buttons below to share this information.
Feel free to drop any questions regarding this article in the comment section below.
Datevast Facebook Commentss