How to fix a Facebook Messenger Message Sent but Not Delivered – Facebook Messenger is the most popular social media platform and instant messaging platform. Nothing is perfect.
Users generally encounter several issues with Messenger on a regular basis. The solved common issues are enumerated below:
You can't send out a message on Facebook.
Facebook Messenger texts have been sent but not delivered.
Facebook Messenger texts have stopped being sent.
Messenger is experiencing downtime and is unable to send or receive messages.
Also see: Messenger App Download 2023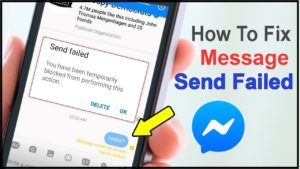 The issues mentioned above are the most frequently seen daily on Facebook Messenger. Nonetheless, we're doing what we can to provide consolidated answers to these issues. Moreover, these are the most common inquiries posted in online forums and chat rooms.
Can't Send a message on Facebook Messenger?
In this case, there are two things you need to know. The first is if you can't send a message to a specific person in your contacts list on Messenger, and the second is if you can't send a message to anyone on your contacts list.
Nonetheless, the answer to both questions is below with their fixes. Furthermore, you first need to try to update your Facebook Messenger application to its latest version, then check if the problem is fixed.
Also read: How to View My Facebook Dating Information
Why Can't You Send Messages to a Single User?
The reason is that the person has blocked you on Facebook Messenger. In this case, you will see something like "can't send a message," confirming that that person has blocked you.
There is no fix for this very problem; therefore, all you need to do is send a message from someone else Facebook Messenger account to the person informing him/her to unblock you. Truly, that's the only help you can get.
Another possible reason is the Facebook Messenger server. You may see things like "Chat is currently unavailable" and similar things when Facebook Messenger servers are down or experiencing some technical issues. In this case, you need to wait a few hours and check to see if the issue has been resolved.
Finally, the recipient you are trying to message is not using Facebook anymore. The person has deactivated or deleted his Facebook account. Also, Facebook deletes accounts when someone violates its terms and conditions.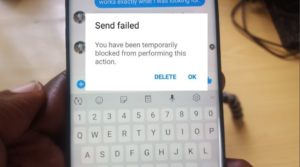 Why Can't You Send Messages to Other Contacts in Messenger?
This is because you have been reported to Facebook as spam. Therefore, Facebook has temporarily banned your profile from sending messages to other users on Messenger.
Worriless, it's temporary, and to fix this problem, you need to wait. Also, don't spam around; feel relaxed. Don't over-post on Facebook, don't share lots of stories and don't send messages on Messenger. Wait for at least 14 days, and the issue will be solved automatically.
Message on Facebook Messenger Sent but not Delivered (Reasons and Fix)
There are several reasons behind the Facebook Messenger message sent but not delivered. These are the reasons:
Maybe you are blocked on/from Messenger.
Also, your chat was, for some reason, ignored by the person or marked as spam by Messenger.
Messenger data centres do not yet approve the message, or it's due to the Connection Requests. The connection or message request is a feature in Messenger that filters messages from unknown contacts and moves them to the spam folder.
Maybe the recipient is offline, or he/she has not installed Facebook Messenger on his/her device.
Facebook Messenger servers are down.
The messenger server glitches temporarily.
The receiver is not yet on Facebook Messenger or uninstalled the Messenger app.

You are Blocked on/from Messenger
In case you sent a message on Messenger, but it's not delivered. It is because you have been blocked on Facebook Messenger by the receiver, or Messenger has blocked your account temporarily.
It is also called a shadow ban from Messenger. This is because someone has repeatedly reported your account with proof, and Messenger accepted their request, which is why your account is temporarily in shadow ban status.
You can do nothing about it; wait for a few days or at least a month. Also, check to see if the receivers have blocked or unfriended you before sending messages.
Read more: Reporting Conversations
Someone Ignored you on Messenger
Messenger allows users to ignore and regard each other on the platform. Therefore, it is a perfect premium feature for removing someone's message you don't want to look at.
Then again, things can happen to you; it's either you are messaging someone for the first time, and your message is going to the spam folder; it's an automatic action by Facebook Messenger.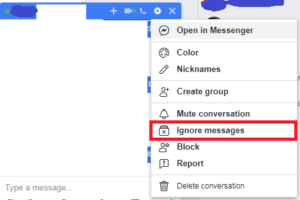 Therefore, the receiver can enter the Message Requests and regard (unignore) you if he/she wants to. Possibly the person has manually ignored you on Facebook Messenger to stop seeing your messages. In such a situation, your messages are sent on Facebook Messenger but not delivered.
The Recipient is either Offline or Not on Facebook Messenger
Once your message is available to read on the recipient's device, you only see a delivered icon next to the message you sent on Messenger.
In other words, once you send a message, it goes to the Facebook Messenger servers and then downloads it on the recipient's device if he/she is online. After that, it is available on the recipient's device, and you will see that delivery mark next to it.
If the recipient is offline or not using Facebook Messenger, the message from your device is sent, but you won't see that delivery mark next to it.
That being so, you can wait for the recipient to get online and receive your message or invite him/her to Messenger if he/she hasn't installed it yet.
Facebook Messenger Servers is Down; you can't Send and Receive a Message
Perhaps, if the Messenger server glitches or it's down, there could be ongoing maintenance on Messenger servers, or they are experiencing some system glitches, which is why you are having this issue.
Moreover, you can check if the Facebook Messenger server is live, up, and running perfectly. Again, those users probably have blocked you if you can't send a message.
But if you can't receive a message now, it's a server issue. Just wait for a few minutes, and the issue will be resolved automatically, or you use Messenger Lite instead.
Facebook Messenger is not Sending Messages
The most frequent reasons behind this issue are:
You have exchanged a lot of messages recently.
Your messages don't comply with Facebook Community Guidelines.
Your Facebook Messenger is not up to date.
Messenger servers are down at the moment.
You have not cleared your phone junk files for a long time.
There is a problem with your phone or internet connection (poor network speed).
The recipient you are trying to send messages has blocked or unfriended you.
Just fix these issues, and then Facebook Messenger will send or deliver your messages successfully with ease or do nothing and wait.
Facebook Messenger Messages Stuck on Sending
This appears to be a common problem on Facebook Messenger. This is due to poor internet speed or Facebook server glitches.
If you are using the main version of Facebook Messenger and your network speed is very poor, try installing the Facebook Messenger Lite application, which will work perfectly on poor internet speed and mobile phones with low hardware features.
This will fix the messenger messages stuck on sending.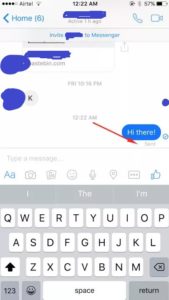 Once you confirm there is no problem with your Facebook Messenger, then the second thing is that you need to check whether Facebook Messenger servers (data centres) are up and running.
Occasionally, there are millions of traffic on Facebook Messenger servers, so they become irresponsive or unable to handle your message request.
In this case, you will need to wait for at least an hour or 30 minutes and check back if their servers are up and running; this way, you can easily fix the Messenger stuck on sending problems.
In addition, if you are in a hurry and want to fix the stuck-on sending problem. Then it would be best if you tried installing a VPN app on your smartphone. This will change your location and make Messenger work on sending messages.
Also, it can connect you with other messenger data centres across the globe. However, some people often experience the same problem in secret conversations, too.
Try the Lite Version of Facebook Messenger
As previously stated, Facebook has crammed the Messenger application with many features and functionalities. On high-end phones, everything runs well, but on smartphones with poor processors, there may be some hitches.
The situation has been reported to Facebook. The Messenger Lite app for Android is a response to this. You can utilize it and take advantage of the Messenger app's capabilities.
As the name implies, the Messenger Lite application takes up very little space on your phone.
Reset your Network Settings
Facebook Messenger will not send messages if your phone is experiencing network problems. You can make another attempt by resetting your phone's network configuration.
Look for network setups.
Restart your network.
Reset Network Settings can be found in the Settings application on your smartphone. Reset your phone's network settings by selecting it from the search results.
Force Stop the Messenger App
Have you noticed that your Messenger app is acting strangely? You must force the app to close and then reopen it.
Launch the App Info menu by long pressing the Messenger icon, then tap the info icon. Tap the Force Stop option at the bottom of the screen, then restart the app.
Why can't I reply to a particular message or chat in Messenger?
Here are some ideas to get you started:
Upgrade the Facebook messenger to the most recent version.
Make sure your internet access is working.
Ensure your smartphone has adequate storage.
If it still doesn't work, there could be several causes for this:
The user you tried to contact has disabled or deactivated his account.
The user has blocked you, or you've blocked the person.
You're trying to reply to a group chat in which the other participants have already left.
Why is there a restriction on how many messages you can send in Messenger?
Messenger has limitations to prevent people from receiving messages they don't want, such as spam.
If you've been cautioned about over-sending messages or sending them extremely fast, you'll have to quit sending them, or Messenger can stop working for you.
You can only send a message to five chats at a time.
How do I delete or unsend a message I sent on Messenger?
You can either totally remove the message that you have delivered or hide it from view.
Other users on the conversation will still be able to access the messages if you pick "Remove for You." Others in the conversation won't be able to access the unsent message if you choose "Unsend for Everyone."
For Messenger Mobile App (Android)
Launch the Facebook app.
Tap the messenger icon in the top-right corner of the homepage.
Tap the specific chat whose messages you'd like to delete.
Then, long-press the particular message you'd like to delete.
Tap Remove in the bottom right corner of the screen to delete it.
From the options, tap Unsend to remove the message for everyone or tap Remove for you to delete the message for only you, then hit Remove to confirm. [Please note that you have 10 minutes to delete a newer message].
For Messenger Mobile App (iPhone)
Open the Facebook app, then tap the messenger icon.
Tap the chat whose messages you'd like to delete.
Press and hold the specific message you'd like to delete.
Tap More in the bottom right corner of the screen.
Tap Unsend to proceed and follow the on-screen instructions to delete the message successfully. [Please note that you have 10 minutes to delete a newer message].
Using Messenger Desktop App
Access the Messenger chat.
Right-click on the text you want to delete, select the three vertical dots icon, then tap Remove.
Select Remove for You or Remove for Everyone.
Select Remove [Please note that you have 10 minutes to delete a newer message].
To cancel a previously sent message, follow these steps:
Access the Messenger chat.
Hover your mouse over the message you want to delete, select the three vertical dots icon, and then tap Remove.
Tap Unsend for Everyone or Remove for you.
Tap Remove [Please note that you have 10 minutes to delete a newer message].
To hide a message from your display, do the following:
Access a Messenger chat.
To delete a message, select the "X" icon next to it.
Delete the item, then delete it again.
Please remember the following:
If you or somebody in your conversation receives a record of their Facebook data, you'll both access the messages that were unsent in the conversation but not what they said. When exporting your data, choose Messages to include in your chat history.
If you think a message you've received goes against FB Community Standards, you can report it. You can also file a complaint about the chat. Click here to learn more.
Fix Facebook Messenger Message Sent but Not Delivered FAQ
Why is my Messenger stuck on sending?
Your cellphone's network provider may be unavailable or jammed. To fix this disabling your mobile connectivity on your iOS or Android mobile device and try using Facebook's messenger app again for sending a message. Reset your Airplane Mode.
How long does Facebook Messenger block you from sending messages?
The length of the temporary ban imposed by Facebook is determined by the extent of the violation and the user's past conduct on Facebook. A temporary block may only last a few hours, but it may also last up to 30 days, according to the findings.
That's all on How to Fix Facebook Messenger Message Sent but Not Delivered.
We hope this article will be helpful.