Creating a Facebook shortcut: If you want to easily access your communications, learn the quickest way to access your Facebook account on your device.
There is a Facebook shortcut available for this purpose. While it is possible to bookmark Facebook in your browser, this is not the best solution.
This article will show you how to add a Facebook icon to your desktop, Android, or iOS device so you can access it with a single click.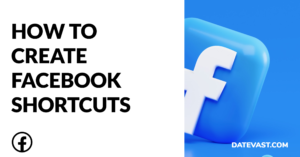 Facebook Shortcut
Shortcuts in the Facebook app provide you easy accessibility to many pages and functions in one location. These icons may be found in the shortcut bar at the mobile app's navigation bar. On desktop computers, they also feature on the homepage of the Facebook website.
Facebook shortcut keeps navigation simpler and faster because you don't have to navigate through a submenu to find what you're looking for.
The majority of the shortcuts can be disabled and re-enabled. Let's all look at the shortcuts that will be available in the shortcut bar…
Homepage
The homepage, symbolized by the home logo, is the first shortcut to the left. This is where you'll find your Newsfeed. This shortcut is unremovable.
Settings
Settings (the hamburger icon) is on the far right and opens a page with easy access to areas like saved posts and events and multiple menu tabs from which you may change the app's settings. Since this is a necessary tab, it cannot be removed.
Notifications
The bell icon represents the Notifications tab. In this section, you'll find all of your notifications (that you've enabled), such as comments, likes, and shares. This tab, too, cannot be removed.
Profile
You can visit your profile and all of your posts through the Profile shortcut, which is a circular avatar icon.
If you delete it, your profile will still be reachable from the Settings menu.
Friends
A two-person icon represents the Friends shortcut. This is where you can see all of your friend requests and friends that have been suggested for you. You'll get friend request notices in the Notifications tab if you delete the tab.
Marketplace
The tent icon represents the Facebook Marketplace shortcut, where you may search for, purchase, and sell things.
Groups
The feed from all of the groups you're a member of is combined in groups. It's a three-person circular icon that can be removed.
Watch
Watch suggested videos from creators that could be of interest to you. The icon is a rectangular play icon that can be deleted.
How to Create a Facebook Shortcut on Desktop
The steps for creating a Facebook shortcut on your desktop can be found below:
Right-click on a blank area of your desktop.
When the menu appears, select New.
Select Shortcut.
A new field will appear, into which you must enter the location.
Add the address (https://www.facebook.com/) on the next screen and click next.
Then click Next.
Enter the shortcut's name (say, "Facebook").
Finally, click Finish.
How to Personalize Your Shortcut Bar
The steps for customizing your shortcut bar on Facebook are available here:
Launch the Facebook app on your iOS or Android device.
In the bottom right of Facebook, tap the three horizontal lines (menu option).
Tap Settings and Privacy.
Choose Settings, then tap Shortcuts.
Tap the Shortcut bar.
Tap the drop-down menu next to the shortcut, then select Pin, Auto or Hide.
You can now customize your Facebook shortcut bar by following the steps above.
You can create a Facebook shortcut on your desktop using the above steps.
You've now added a shortcut to your desktop, which allows you to access Facebook with a single click.
How to turn off shortcut notification dots
Follow the steps outlined below to turn off shortcut notification dots:
Open the Facebook app for iPhone, iPad or Android.
From any Facebook Page, tap and hold on a shortcut on the shortcut bar.
Tap Turn off notification dots or Hide from the shortcut bar to remove it.
You can also turn these off by navigating to Notification dots in your settings below Notifications.
Note: You can't remove the Notifications shortcut or Home shortcut icons from the shortcut bar.
Facebook Shortcut Bar
Shortcut Bar is an incredibly useful tool that quickly connects you to the files, folders, apps, web bookmarks, text snippets, and colour swatches you require. The feature resides in your menu bar and supports an unlimited number of shortcuts.
Long-Pressing to Remove Shortcuts
The simplest approach to remove a shortcut is to long-press on an item in the shortcuts bar. This method, however, can only be used to remove shortcuts, not to create new ones.
Follow these procedures to delete shortcuts by long-pressing:
Long-press the shortcut you'd like to get rid of. T
ap Remove from shortcut bar in the pop-up menu.
A second pop-up will display, asking you to confirm that you want to delete the shortcut. Remove by clicking on it.
At the bottom, a temporary dialogue box will appear to confirm your changes. If you want to undo the change, tap Settings, but act quickly because the box will vanish within a few seconds.
Facebook Shortcut Pin
Pinning is the online version of attaching something to the top of a list.
You can also hide and unpin shortcuts on Facebook. When you hide a shortcut, it disappears entirely from the Shortcuts area.
When you pin a shortcut to your menu bar, it remains visible.
It's the same with  pinning a list of your favourite numbers on a message board in the digital world.
When you tap the See More option after unpinning the shortcut, it still displays in the Shortcuts area.
Follow these steps to conceal or unpin a link from the Shortcuts category:
Hover your cursor over the item you'd like to unpin or remove.
The link has an ellipsis icon to the right of it.
To use the ellipsis, simply click it.
When you click on the shortcut, a menu appears beneath it. You will see more than two options depending on whether it's a group, a Page, or a game, but each item includes at least two: Unpin from Top and Hide from Shortcuts.
Tap either Unpin from the Top or Hide from Shortcuts.
You will notice that the Menu and Favorites sections are both cleared when you close the menu or link you've selected.
How to Edit Your Facebook Shortcuts
To edit the Facebook Mobile App's Shortcuts Bar, follow these steps:
Launch the Facebook app. Log in to your account. And stay on the homepage.
On Android smartphones, tap the icon with three horizontal lines in the upper-right corner; on iPhones, tap the icon with three horizontal lines in the lower-right corner. This brings up the menu.
Scroll to the bottom and select Settings & Privacy. It's adjacent to an icon that looks like a gear. This opens a menu with Facebook settings.
Select Settings. It's right next to an icon that looks like a person. This displays all of Facebook's general settings.
Scroll to the bottom and tap Notification Dots. It's next to an icon in the upper-right corner that looks like a square with a dot. This menu lets you choose which Shortcut icons get notifications.
To turn off notifications, slide the toggle switches to the off Image position. This will prevent the red "Notifications" dot from appearing over the Shortcuts Bar's various shortcuts. You can disable notifications for the shortcuts "Groups," "Marketplace," "News," and "Menu."
I hope this article was helpful?
Like, Comment and Share!
Recommended:
How To Clear Your Facebook Search History – Clear Searches on Facebook
How to See My Blocked List on Facebook