Creating a Facebook account, logging into your Facebook account, and keeping in touch with your friends and loved ones is not enough.
You need to learn how to make the necessary Facebook security settings for your account.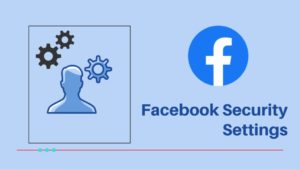 For a start, if you don't want to lose your Facebook account to hackers, you need to know how to change your Facebook login security, if need be.
There are many other important security settings for Facebook that are needed to keep you and your account secure.
In this article, I have explained how to go about them.
Change Your Facebook Security and Login Settings
In your Facebook account settings, Facebook allows you to adjust your security and login settings. To do this, click the "Account and Login" link in the left-hand column.  You can set the following here:
Choose Friends to Contact if You Get Locked Out
This feature was made by Facebook to help users get back to their accounts anytime they get locked out through their trusted friends.
Facebook recommends that any user nominate 3-5 of his trusted friend's contacts. The friends you select will be able to receive a recovery code with a URL that will allow you to get back into your account.
Where You are Logged in
This feature keeps a record of everywhere you are currently logged in or previously logged in, including the logging time, device name, and IP address. It's advised that you log out of all sessions to keep your account safe.
Login Facebook Security
Here you are able to change your account password and set your account to log in with your profile picture.
We advise you to use a strong password combination when changing your account password. Also, setting up your account to log in with your profile picture might be risky, as anyone can easily access your account once they can get your device. So it's better you turn it off.
Facebook Security | Two–Factor Authentication
This feature allows you to log in with a special security code anytime you are accessing your account on a new browser or device. Here you will be shown seven different options you can choose from.
However, you can still review the devices where you won't need a code before you log in.
Setting up this feature is a good one; it will help keep your account safe from hackers.
Other settings you can make in this section are
Set up your account to send alerts to you if anyone logs in to a browser or device you don't normally use.
You can also add extra security to your notification emails from Facebook that only can decrypt.
Privacy Settings
Here you can adjust the settings on your activity and how people can find and contact you. This part of your account helps you to maintain your privacy on the site.
In the "Your Activity" section, you can make changes to who sees your future post.
Review all the posts you were tagged in and your limited audience for a post you have shared in public or with friends of friends.
The other section tagged "How People Find You and Contact You" is where you can change settings on the following:
Who can send you a friend request?
Users Who can see your friend list?
Who can look you up using the email address linked to your account?
Do you want a search engine outside Facebook to link to your profile?
You can use these settings to adjust how you want people to locate you anywhere on the internet and on Facebook
Reporting and blocking
Another way of securing Facebook is by reporting whoever violates Facebook's community standards. To this end, you can use the report post. Once you report, block, unfriend or snooze a friend, be guaranteed that they won't be notified. They won't even know the identity of whoever reported them.
Facebook offers safety and privacy features that may not be present on other social media platforms. If you are yet to understand how it works, we advise you to use the service help section.
Essential Facebook security and settings
Hide your current location.
Facebook exploits your location to provide content and pitch your goods. If you turn off location services, it simply wouldn't be able to track you with adverts based on your exact location. Facebook does have accessibility to your network location, so you'll have to deactivate it on both your smartphone and the application.
To turn off location services on an iPhone, follow these steps:
Go to the phone's Settings and click Privacy from the drop-down menu.
After that, tap Location Services, then Facebook.
To turn off location services, click Never.
To turn off location services on an Android phone, follow these steps:
Go to the phone's Settings and select Privacy from the drop-down menu.
Permissions Manager is the first option, followed by Location. Select Facebook.
To turn off location services, click Deny.
Follow these instructions to deactivate location tracking inside the app once you've finished updating your phone's permissions:
In the lower right corner, tap the three-line symbol.
Tap Privacy Shortcuts, then Settings & Privacy.
After that, click Configure Your Location Settings, then Location Services.
Select Never from the Location menu.
Remove facial recognition technology.
Facebook's picture technology relies heavily on face recognition software. That's why you're immediately tagged in other people's images.
On the computer version of Facebook, you can turn off facial recognition. Take the following steps:
In the upper right corner of the screen, tap the downward-pointing line.
Choose Settings & Privacy, then Settings.
Select Face Recognition in the left-hand column.
"Click "Do you want Facebook to be able to recognize you in photos and videos?" To deactivate the settings, select No from the drop-down box.
To keep hackers out, activate two authentications.
One of the most effective ways to protect your account from unauthorized logins is to use two-factor authentication. Without the need for a text message code, someone trying to hack into an account with 2FA enabled may be denied access. You will indeed be authorized to log in because the code is sent to your phone.
2FA should be enabled on your computer.
In the upper-hand corner of the screen, select the downward-pointing arrow.
After that, tap Settings & Privacy, then Settings.
Select Security and Login from the drop-down menu.
Choose to Activate two-factor authentication after scrolling down to Two-Factor Authentication.
To finish the settings, input your phone number and validate the passcode in the text.
Organize your friend list.
Having a large number of Facebook friends indicates that your personal and private life is being watched by a wider audience. You probably will not need tens of thousands of people to know about your personal life.
Furthermore, research has indicated that those who accept new friend requests regularly are more likely to be targeted by fraudulent accounts.
You're best served to clear out your Friends list for the sake of security. To do so, go to any of your friends' accounts on Facebook on your phone or computer. Locate the Friends button and click or press it.
You can choose Unfriend from the dropdown menu that appears. Do this for somebody you're not sure about or who you don't know well. It's not a competition on Facebook, and having numerous friends doesn't make your profile more complete.
You can feel more at ease utilizing the Messenger Rooms function now that you've figured out your privacy settings. Just be careful not to give the game away via video chat. Whether you're on camera or not, you have the right to privacy.
On other sections of the internet, stay away from the Likes and Share buttons.
You're fueling the fire that is Facebook's ad machine every time you utilize a Facebook button on another website. Every Share, Like, and recommendation is added to Facebook's data feed, which is used to fine-tune its algorithm.
Using these buttons, even if you've turned off tracking from outside Facebook, is the same as allowing it to know what you're up to. To avoid the hazards of these buttons, you don't need to adjust any settings. Simply put, don't use them.
If you really must share content, copy and paste it into a post the old-fashioned way.
Stories and Posts Security
To make your posts and stories more secure, click Next. This setting allows you to choose who can see what you publish on Facebook.
Also, you can configure the privacy of individual Fb posts to enable only your friends or anybody on Facebook to view and comment on your posts and stories.
You can control who can see Future Posts and Stories on this wizard page. You can also edit our previous stories on Facebook.
Future Posts and Stories should be set to Friends, and Limit Past Posts should be set to Friends so that only friends can see them.
When you make a new post, it will now be restricted to friends only. If you'd like, you can still set the privacy of your posts to "Public."
Set Ad Preferences
There is one more setting called ad preferences. Choose your ad preferences on Facebook to activate this page. Proceed to the Profile Information section by selecting Continue and Next.
Here is where you can choose whether or not to share details about yourself with Facebook advertising.
If you're very concerned about what information advertisers have about you, you should turn off all of the toggle buttons on this page.
You've completed all of the privacy wizards at this point. Your account options should be configured for your preferred security and privacy preferences.
It's important to check in with this wizard on a regular basis to ensure that all of the preferences are still present to your satisfaction. Tweak them to give you more privacy if that's what you want.
Read: How to See My Blocked List on Facebook
What can I do to keep my Facebook account secure and safe?
Here are a few things you may do to ensure the safety of your account:
Keep your login details safe.
Don't ever disclose your Facebook password to others or utilize it elsewhere on the internet.
Don't use your nickname or other popular terms in your password because you want it to be difficult to guess.
Never give out your login credentials to anyone.
Scammers may establish fraudulent Facebook-like sites and ask for your email and password to log in.
Before entering your login details, double-check the website's URL. When in doubt, go to Facebook by typing www.facebook.com on your address bar.
Do not forward Facebook communications to anyone as they may contain critical data about your account.
When using a computer that is shared with others, sign out of Facebook.
Accepting friend requests from individuals you don't know is a bad idea.
Hackers may create fraudulent profiles in order to add people as friends.
Scammers may flood your newsfeed, tag you in the comments, and send you nasty messages if you become friends with them.
Be wary of harmful malware.
A PC, router, or network node can all be harmed by malicious programs.
Learn how to recognize a corrupted computer or mobile device, as well as how to get rid of harmful software.
Updating your online browser and removing any potentially malicious programs or browser add-ons is necessary.
Even if they look to originate from a friend or a business you recognize, never click on strange links.
Please remember that Facebook will never send you an email asking for your password.
Flag any malicious links you come across on Facebook.
Make use of our enhanced security features.
You can also set up two-factor verification so you can receive notifications about unknown logins.
Facebook Security Settings FAQ
My friend's account is sending spam.
It's likely that your friend's account has been hacked. This could be a result of:
PC virus or malicious code.
Due to phishing, a user's password was compromised.
What can I do to ensure the safety of my Facebook account?
Here are a few things you can do to ensure the safety of your account:
Keep your password safe.
Do not use your Facebook password to log into any other websites, and do not give it to anybody else.
Don't use your nickname or popular words in your password, as this will make it easy for others to guess.
Never give out your login credentials to anyone.
It is possible that scammers will build a fraudulent Facebook site and request your email address and password.
Before entering your login details, double-check the website's URL. When in doubt, go to Facebook by typing www.facebook.com into your browser.
Do not forward Meta emails to others as they may contain sensitive account information.
Conclusion
Hundreds of millions of people use Facebook to interact and engage with their loved ones. Facebook is vulnerable to hackers, phony Facebook profiles, and incidences of identity theft due to its large number of users. To further protect the safety of its users, Facebook recently implemented new security settings for its website. Adjusting your Facebook security settings will safeguard your data, and it can be done in five minutes on your laptop or desktop computer.
Also See: How to Send and Receive Money Via Facebook Messenger
That's all.
in the Facebook Security Settings.
If you like this article, please share it with your friends, using any of the share buttons below.