Facebook has not only been a great way to connect with friends and family but also a great source of entertainment.  Facebook has launched its dating service, which is a convenient choice for many. But the Facebook app has a problem that many individuals experience.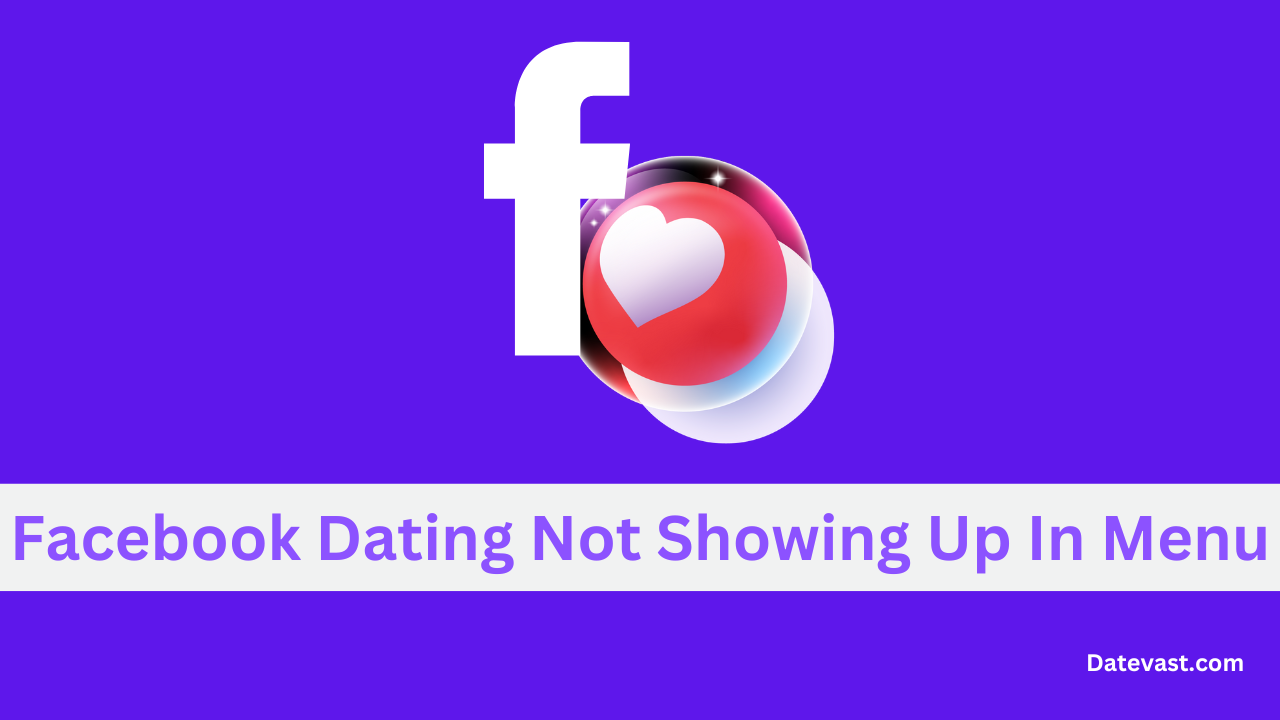 That's why Facebook dating doesn't appear in the options. We've brought a useful tutorial showing you how to fix the problem in this article.
Some of the problems Facebook users occasionally experience with the dating service after enabling it to include:
 Facebook Dating does not appear on the Facebook app.
Facebook Dating is not loading.
The Facebook app is frequently crashing.
The app does not display photos or other features.
Notifications from Facebook Dating do not appear on your home screen.
If you cannot use Facebook Dating, you can try updating the Facebook app, rebooting your device, or troubleshooting your internet connection.
Reasons Why Facebook Dating Doesn't Work
If you're having issues with Facebook Dating, one of the following factors is possibly to blame:
A new version of the Facebook app is required.
Everyone's Facebook Dating account is down.
You have blocked alerts.
You're experiencing issues with your internet connection.
The cached data on your mobile device gets tampered with.
You might simply have to wait for Facebook's team to resolve the issue, but there are a few things you can do in the interim.
Read: Facebook Dating App Shortcut 
How to Fix Facebook Dating not Showing Up in Menu
In order to get Facebook Dating to function properly, try these steps:
Facebook app update
You should update your Facebook mobile app to the most recent version if Facebook Dating does not appear. To keep all of your apps up to date, you can enable automatic updates on iOS and Android devices.
Verify your internet connection 
You may need to troubleshoot your wireless connection if other apps give you issues while connected to a Wi-Fi network.  When your mobile data stops working, there are a few things you may attempt to fix if you have a data plan.
Allow notifications from the Facebook app.
Make sure to make an exception for Facebook or turn notifications back on if you have disabled app notifications.
Delete the cache on your Android or iPhone device.
To make apps run more quickly, your device stores data, but occasionally this data becomes corrupted, causing apps to cease functioning properly. Any conflicts can be resolved by clearing the cache on your iPhone or Android device.
Verify if Facebook is unavailable.
There is probably nothing you can do but wait until Facebook functions normally if other users are having problems with it.
Exit the Facebook application.
On iPhones and Android smartphones, closing apps might correct small issues that result in features disappearing.
Restart the computer
A restart can solve a variety of computer issues. See if the problem is resolved by turning on and off your device.
Remove the Facebook app and install it again.
A possible solution is to uninstall the software from iOS or Android and then download it again from the Google Play Store or Apple App Store.
Unsupported Location
Not every country has access to Facebook dating. Here are the countries that have access to  Facebook dating:
Argentina
Austria
Belgium
Bolivia
Brazil
Bulgaria
Canada
Chile
Colombia
Croatia
Cyprus
Czech Republic
Denmark, Ecuador
Estonia
Finland
France
Germany
Guyana
Hungary
Italy
Iceland
Ireland
Laos
Liechtenstein
Lithuania
Luxembourg
Malaysia
Malta
Mexico
Netherlands
Norway
Paraguay
Peru
Poland
Portugal
Philippines
Singapore
Slovakia
Slovenia
Suriname
Thailand
United Kingdom
United States
Uruguay
Vietnam
Speak with the Facebook Help Desk 
You can contact Facebook's technical support staff if you're still having trouble using Facebook Dating and no one else is reporting any problems with the service.
How Do I Delete Facebook Cache?
Open your Android device's Settings app.
Scroll down to Apps & Notifications.
Select Facebook.
Select Storage and cache > Clear cache.
Where Can I Find a Facebook Dating Shortcut?
Facebook dating shortcuts are only available in a few countries and can be discovered within the Facebook app.
In April 2021, the Facebook dating app was released in India. However, some iPhone and Android users may not discover the dating option on their devices.
Open the Facebook app on your smartphone.
In the app, click on the Hamburger symbol at the top right corner of your Facebook page.
Locate and tap on the Facebook Dating shortcut.
You now know the precise procedures to fix Facebook dating not showing. If you have any questions, please drop them in the comment section below.
Read Related 
How To Clear Your Facebook Search History