The hunting4connections.com website regards itself as a fair, accessible and inclusive platform. Their membership base covers all spectrums of the LGBTQ+ community and sexual minorities like queer, homosexuals (gay & lesbian), transgender and intersex.
Hunting 4 Connections is a dating website for anyone who is searching for a hobby and special interest in dating. If you are not signed in, you won't be able to access your profile data. This safeguards your privacy and enables users who want to communicate with you to access your data. The website has a mobile-friendly design. This implies that you can access the platform on your phone the same way you will on your PC (it will perfectly align with your device's display). Although it doesn't have a mobile app, it offers a paid subscription mode. It starts at $19.97.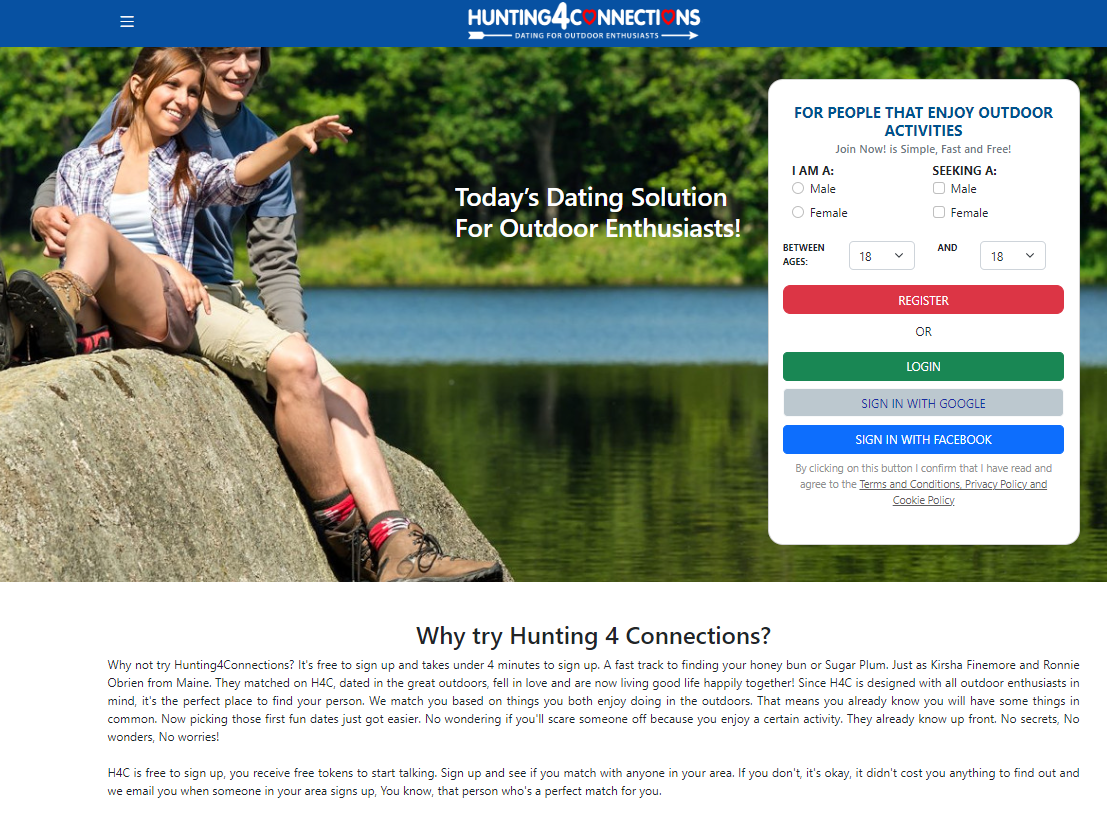 How does Hunting 4 Connections works?
Oftentimes, users wish to engage with interested parties in other geographical areas. Thus, there is a feature that helps you find users from a specific location. It is easy to use and allows you to target users using this criterion.
Similar to many other dating platforms, it is equipped with a messaging and chat feature. Hunting 4 Connections also lets users send invites or chat requests to other users.
The site also boasts a powerful search and filter tool. Here are the filter criteria the site has:
Gender
Age
Users with pictures on their profile
Users who are actively online.
Advantages
It gives users the ability to block other users whenever they like. Thus, they won't have access to you.
There is a powerful filtering option that targets people in your vicinity. You can also utilize sophisticated search filters to refine your preferences.
Send chat requests to other users and chat privately.
Connect and register an account via your Facebook account.
Connect and sign up via Google account.
Email verification is compulsory for users. This is essential to tackle fake and fictitious profiles.
The website is great for its user-friendly interface (it is mobile-friendly for users).
Disadvantages
The website is not available for installation on iOS devices.
The website presently lacks a mobile app for android devices.
Pictures of users rarely undergo the verification process, so there is a likelihood that there will be a proliferation of fake profiles and offensive pictures on the platform.
Pricing option for Hunting 4 Connections – What is the cost of membership on Hunting 4 Connections?
Hunting 4 Connections has no trial option for members.
However, Hunting 4 Connections has premium membership plans.
This premium plan is instantly renewed, so ensure that if you are no longer interested in the dating service, you have to cancel it before the time of payment ends.
Hunting 4 Connections allows users to use a network of coins and credits to access paid features (like the ability to exchange messages, interact with users, boost the visibility of profiles, and so on)
Each user can pay for the coin system at a single time. It isn't instantly renewed whenever there are coin shortages. Thus, you have to buy the needed amount whenever you want to use the feature.
Options for premium membership
Subscription 1, 3 or 6 months 1 Month costs $19.97;
Subscription 1, 3 or 6 months Cost of 3 Months is $39.97;
Subscription 1, 3 or 6 months Cost of 6 Months is $59.97;
Options for purchasing coins and credit
Tokens cost $9.97 for 100 coins;
Tokens cost $24.97 for 300 coins;
Tokens cost $49.97 for 700 coins;
Tokens Cost of 1600 coins is $99.97;
Does Hunting 4 Connections offer Discounts and coupon codes
No. The dating service does not currently offer any coupons or discount codes.
What are the steps for registering for Hunting 4 Connections?
First, you have to complete the signup process by providing your information in the input field during the registration process.
An alternative option is to connect your Facebook account. This hastens up the entire process as your details will appear in some fields after that.
You can also sign up via your Google account, which simplifies the entire process as well.
Mobile versions and applications
The website is known for its mobile-friendly design. This implies that the website is great for mobile use and it will look good on your smartphone (it will align to your phone's screen). However, you won't find an iOS or Android app for Hunting 4 Connections.
Privacy Policy
In the dating space, there are public and private platforms. If you wish to protect your privacy and remain anonymous, you should opt for a private service. Public dating websites are inclusive and open, letting everyone, even people who are not registered, explore users' details and check out the website.
Your profile can be accessed by people who haven't even signed up on the platform. Thus, your profile can be exposed to anyone who needs your data. You should highly consider the type of information you put up on dating platforms.
Terms and Conditions (TOS)
Hunting 4 Connections has a terms and conditions page you can check out. We advise that you peruse it before signing up. While the text might be a bit voluminous, it may contain important pieces of information that can save you from trouble later.
Contact details
Hunting 4 Connections, LLC, a company headquartered in the United States, manages the dating website. You can use the following information to reach out to this business:
Company Name: Hunting 4 Connections, LLC;
Company Head Office: 106 E. Hogg St.;
Postcode and city: 54642 Melrose;
Country: United States;
Twitter: https://twitter.com/hunting4c;
FAQ
Is there a dating site that caters to hunters?
Yes. Hunting 4 Connections is one of them. The platform is great for hunters, fishing enthusiasts, campers, archers, bikers, swimmers, watersport lovers and so on.
Which countries are great for hunting?
United States, Canada, Scotland, New Zealand, Australia, Namibia etc.
Where can I find immigrant singles?
Here are the best dating sites for immigrants: Match, Tinder, eHarmony and Zoosk.
Conclusion
In this review, we explored everything about Hunting 4 Connections. Ensure you check out other reviews on the platform and share this article with your friends and loved ones. Stay Safe!