CountryMatch is a unique dating service designed for people who enjoy country music and feel connected to the countryside. Thus, if you enjoy country music, performances, style and culture, this website will be a perfect match for you. At CountryMatch, you will meet and engage with people of similar interests, and they will be pleased to discuss their favorite parts of country style. Single people can interact, chat, and begin a friendship or romantic relationship with whomever they like.
CountryMatch is different from other dating services because it appeals to a restricted group of people. The target is not gender identity or sexual preferences but lifestyle and culture. And it is a fact to say country lifestyle or living is unique. It revolves around promoting country music and performances, dressing in cowboy clothes and watching bulls and the like.
Unlike other popular dating services, CountryMatch lacks a huge worldwide user base. However, it appeals to a lot of singles in the United States. If cowboy style interests you and your heart fawns when you set your eyes on handsome ranchers, then CountryMatch will satisfy your need. The users of the site are generally amiable, respectful and liberal-minded. They are in search of authentic relationships rather than causal romance and fling.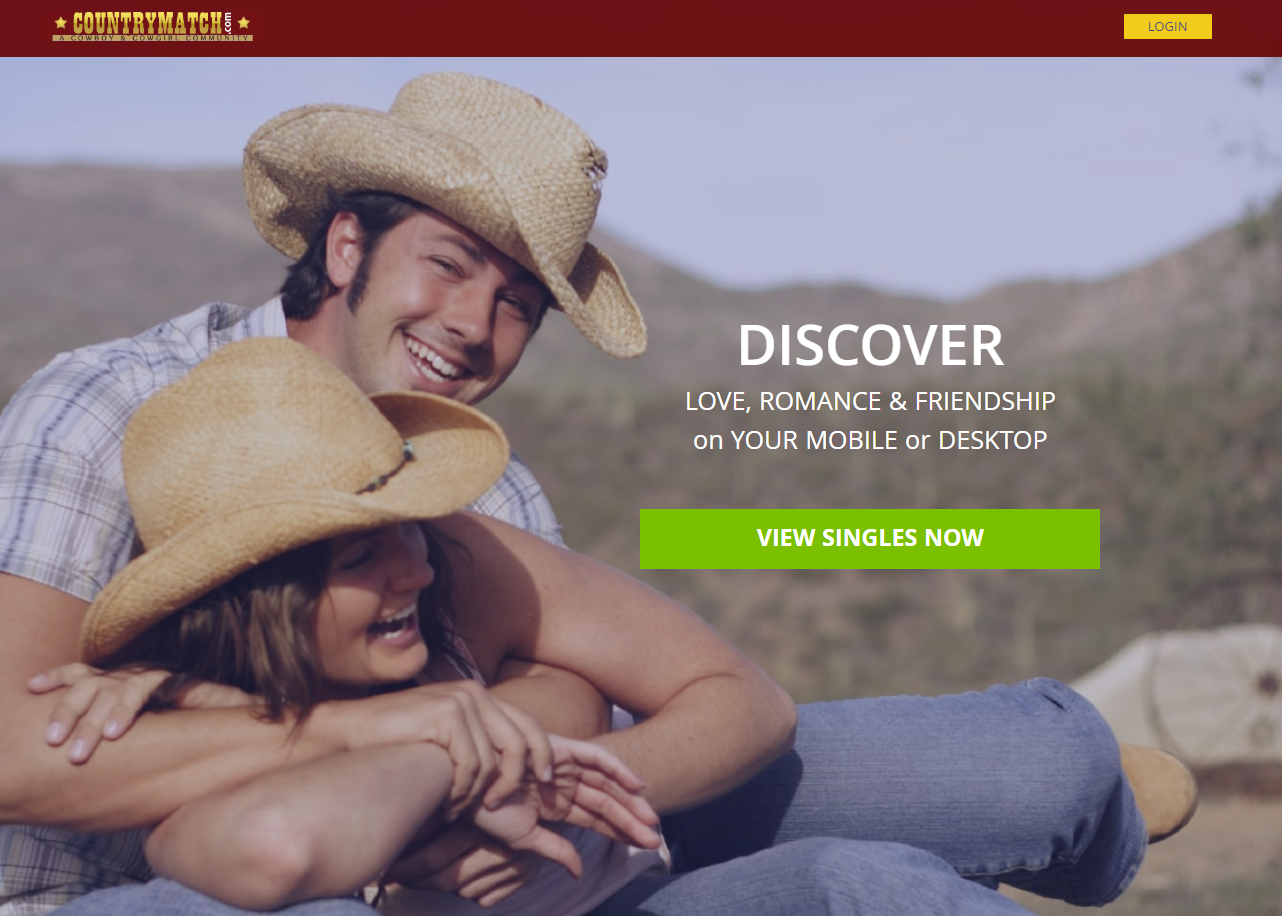 CountryMatch: How Does It Work?
CountryMatch was established over a decade ago. Throughout this period until now, it has positioned itself as a reliable and user-centric dating platform. To become a member of CountryMatch, you have to enjoy country living. It is an important requirement to join the platform as a user.
CountryMatch is equipped with exciting features for its fledging users. They can exchange messages, access pictures, deliver virtual gifts and wink to anyone they admire. Those in charge of CountryMatch have indicated their contentment with the quality of the platform and the value their user base has added to the website. Their users are clever, creative and interesting people looking for romance in a place that promotes their interests.
CountryMatch does its best to verify that its users are authentic. They have moderators who painstakingly review the profile pictures of potential users who wish to sign up for this platform for admirers of country lifestyle. All users will need to give a response to practical questions to pass verification. This is one of the reasons you will find detailed profiles on CountryMatch, and you won't encounter fraudsters or cyber criminals on the site. Signing up won't eat up your time. It can be completed in less than 15 minutes.
CountryMatch.com Chat
Next, you can join the platform as a member and be prepared to enjoy some features. Engaging with and interacting with your new matches is highly rewarding. Currently, virtually every dating service offers chat features. This implies that you can interact with other users who wish to familarize themselves with you via the Platform. Met anyone you like yet? Use the messaging feature to exchange beautiful messages on the CountryMatch platform.
As it is the dawn of the technological age, lots of dating websites are adding more sophisticated features, such as facetime and audio chat. This will assist you in familiarizing yourself with matches and love interests easily. Do you wish to interact with other users on the platform and connect with them? Great news, it is highly attractive. Utilize the CountryMatch.com advanced search feature to find new online users. Next time you see an attractive user, send a short message and start the convo.
CountryMatch.com Profiles:
Access the CountryMatch.com sign-in page to begin. As I stated earlier, most users of this platform have set their eyes on genuine romance, marriage and serious relationships. This means you will likely provide some personal information for the website. Although this can be long and tiring for many, we advise you to complete the process. The reason is that the more you invest efforts to improve your CountryMatch.com profile, the chances of getting the attention of other compatible members will increase.
A major part of creating your profile is providing responses to CountryMatch.com questions. The reason why this stage is relevant is that it allows the site's algorithm to understand your personality a bit more so it can recommend suitable matches. Would you like more profile visibility and attention? Then, invest time in providing lots of information. This will signal to other users that you are committed and serious about connecting with them.
Ensure that your profile has basic data. This will boost your chances of meeting someone great on the platform. It will set you up for a rewarding experience.
CountryMatch.com App:
Is there a CountryMatch.com app? The answer is no. For now, the website doesn't have an app. I searched everywhere and couldn't find it. But that doesn't mean you can't access the website on your mobile device. The website has a responsive design and should perfectly fit your phone's screen or layout. All you have to do is visit CountryMatch.com on your smartphone's browser. You will still enjoy the quality features and benefits as you would on the PC version. While a mobile app will be better, users can still chat and visit other profiles using their mobile devices. We hope that somewhere in the future, the site admin will create a mobile application for convenience.
Safety
Now another important question is: Is CountryMatch.com safe?
We advise you to check this out for yourself before signing up for any dating platform. Carry out brief research and explore the website's privacy and safety features. In the case of CountryMatch.com, the website has a privacy page that outlines the security and safety of your data. If the dating service you wish to sign up for doesn't have a safety, privacy or terms of use page, then it's best you avoid it.
CONS AND PROS
PROS
You will likely find people based on similar interests in your neighbourhood.
User-friendly site layout.
Features that enable you to share winks and virtual gifts with other users.
Fun and exciting profile and picture gallery.
Favorites list.
Options to tailor your search to matches near you in a US state.
Friendly customer service round-the-clock.
Automatic and manual search for other users.
Verification process and site moderation to eliminate fake profiles.
CONS
No mobile app for the platform.
Not enough users in local search.
The site lacks a FAQ and success stories page.
You can't find out who checked your pictures with a free account.
You can't find out who sent you an email with a free account.
Also, check out Hunting4connections.com Review