Every person deserves to be celebrated on their special day. If you want to brighten up your day and spice things up, try out my birthday message to myself.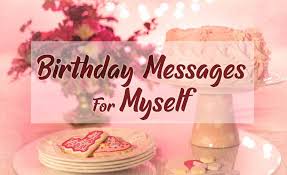 On your birthday, you are likely to get so many wishes and goodwill messages from friends, families, colleagues and loved ones. However, the most important wish is the one you make for yourself.
Your friends on the social media platform could be waiting to view the sweet wishes you would post for yourself on your birthday; you don't want to disappoint yourself.
It's possible to run out of inspiration just when you need it the most; if you've ever tried and failed to write a birthday wish to yourself, this article is here to help.
Are you ready to make your day a memorable one by sharing heartwarming wishes for yourself on your special day? Read on.
Sarcastic Personal Birthday Status Updates 
When I say to myself, "Happy Birthday to me!" it means so much to me!
Happy Birthday to an awesome, talented, beautiful, and funny Personality! Yes, that's right, it's my birthday!
Cheers to me for surviving another year, I wish myself many more prosperous, enjoyable, and adventurous years ahead of me! Happy Birthday, to Me!
Happy Birthday to a fantastic person that's one-in-a-million and the creme of the crop, you are the icing on the cake! That's right, I sure am!
One Love to all for celebrating with me on my special day! It was a splendid surprise to be able to have quality time to spend with great friends!
It's that particular time of the year again. You know the cake and ice cream. It's my outrageous birthday! Time to start the party!
Happy Birthday to me. Happiest of birthdays to me. Oh yes, Do you want to wish me a happy birthday?
Happy Birthday to a person who is full of unbelievable awesomeness! Yes, that's right. It's me. It's my birthday.
I can not appreciate you enough for the beautiful birthday wishes! My heart overfloweth with tremendous gratitude and love for every one of you, May we have more years of incredible adventures and unimaginable opportunities!
Emotional Birthday Message
1. Happy birthday to a self-willed, strong, and beautiful soul. Yes, you got it right! I am turning a year older today. HBD to me.
2. It is with great pleasure that I am here to celebrate another year of my life. I am grateful for surviving all the challenges throughout the last 365 days and turning a year older.
3. Growing up, everyone around me spent all their time trying to be great. I am one of the lucky ones who has always been great. Happiest birthday to me!
4. As I turn a year older today, I am most thankful for the people around me and the gift of being alive. Happy Birthday to me.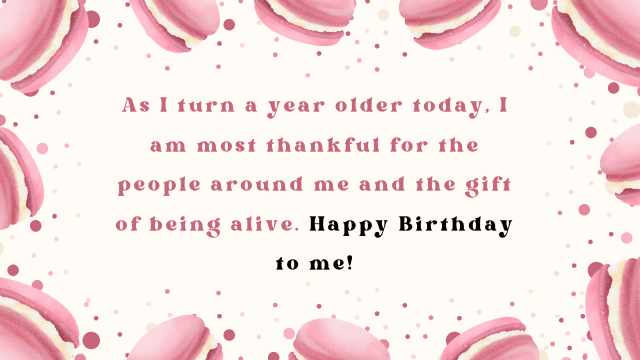 5. I am not holding back any joy today. I will love every minute of today and laugh as much as possible because it is my day. Heartfelt Birthday to me
6. That was a fantastic year of knowing myself. Cheers to a new year in my life! sweet birthday wishes to me
7. Happiest and most loving birthday to me. May I have the best birthday yet. I know I have had a positive impact on people's lives, and I hope to inspire many more
8. If I could make a wish right now, it would be to be heard screaming across the universe just to show how happy I am. Happy birthday to me!
9. HBD to myself. It feels great to be older. Happy birthday to the person that lives in me!
10. May all the forces be with me for the next year. So far, they have been good by adding another year to my age.
11. Wishing myself a productive and successful new year. As I blow the candles on my cake, may all the looming sadness and negativity be blown away.
12. Happy birthday to me! There should be a national award for awesome people like me. I'd like to thank myself for being exceptional and accommodating.
13. What a time to be alive. I cannot believe today marks the start of a new chapter for another 365 days on earth. Heartfelt Happy Birthday Wishes to Myself
14. This new age should be nothing short of the great times I had last year. My 24th year on earth should be for prosperity.
15. Merriest birthday to one of the most humble, funny, awesome and beautiful people I know: Me!
16. One of the greatest people to ever exist was born today. As I turn one year older, I hope that everything in my life will advance to the next level.
17. With my birthdays coming thick and fast, I have realized I fall in love with myself with each passing birthday. I say numbers do matter.
18. I do not want to spend my entire life trying to be a great person like most people do; I am among the few who have been great since birth.
19. It is beyond explanation how far I have come in life. I can't believe I am a year wiser, more beautiful, and richer today! To God be all the glory. Happy birthday to me.
20. I am happy to live up to this day. It is an occasion worth celebrating. I know I will be alive to celebrate more years. Happy birthday to me.
Motivational Happy Birthday to Myself
1. Dear Lord, thank you for bringing me into another fabulous year where I will live out your glory. It is my birthday today; may Your goodness remain with me.
2. On my birthday today, I pray that the presence of the Lord will never depart from me all the days of my life.
3. It's too late to give up, I am forging ahead in life. And no matter what life gives, I've got God by my side. Happy birthday to me.
4. Keep it up, guy! Keep shining and blazing the trails because the future of unending enjoyment will soon be here. Enjoy, it's your birthday.
5. Countless joy, peace, and love are all I pray for as I turn one year older. Thank you to all who have helped me along the way. Happy birthday to me.
6. Turning a year older means I get to be wiser than ever before. My heart desires to be grateful always and to appreciate everyone in my life every other day. Very happy birthday to me.
7. It's not been easy but I have been coming through, day after day. I celebrate myself for my courage. Happy birthday to me.
8. I love how the wishes are coming but I appreciate myself more by being alive amidst all life's challenges.
9. I hope that this special day will blossom into achieved goals and accomplished dreams. Happy birthday to the happy person I am.
10. Happy birthday to me. Thank you, mom and dad, for bringing such a wonderful gift in the world and for always showing me the way.
11. No matter what comes my way before my birthday, I will always look back to praise God. Happy birthday to me.
12. To the man of greatness and purpose, the man of vision and enviable dreams, I wish you a happy birthday.
13. I'm so excited today simply because it's my birthday. I pray for peace, prosperity, and happiness above all things. May God bless me continually.
14. Today, I choose to forget all my problems and paint a smile on my face because I am blessed. A most spectacular birthday for me.
15. I'm taking a step at a time, getting to maturity physically, mentally and financially. Nothing is stopping me! Happy birthday to me.
16. I'll use this birthday to congratulate myself on a future of enviable success.
17. May I have the best birthday today. I wish myself a life filled with happiness to the brim and the life-long realization that as long as I have life, I am rich.
18. I can't wait to be in the future because I see myself blazing the trails. Happy birthday to me.
19. I am not a product of my circumstances. I am a product of my decisions. Happy birthday to me.
20. Let me be the first one to wish myself a superb birthday and favour beyond imagination. I celebrate me!
21. My birthday is an inspirational time to remind me to live each day with passion. Happy birthday to me.
22. May the year ahead bring me many opportunities to succeed and flourish. Happy birthday to me.
23. This year shall be my best year. I count on You, Lord, to make it happen. Happy birthday to me.
24. My youth is renewed day by day. God has been so kind to me; I cannot tell it all. May His grace which found me, continue to sustain me. Happy birthday to me.
25. I want to quit doing less-than-excellent work. Let my success shock the world. Amen. Happy birthday to me.
26. It's not what you look at that matters, it's what you see. I see success all the way. Happy birthday to me.
27. My prayer for myself on this day is that l will not regret my new year which begins this day. Happy birthday to me.
28. The work of my hands is blessed. My efforts to prosper shall always prevail. The love of God shall distinguish me amongst many. Happy birthday to me.
29. The faithfulness of the Lord shall never cease in my life. All the good things will be provided for. Happy birthday to me. I am deeply grateful to Him.
30. I'm not old, I'm just mature. And now it's the best time for me to enjoy my beautiful life. Happy birthday to me!
Happy Birthday From Me To Me
1. Happy Birthday from me to You! It's time to party because I'm ecstatic! Cheers to a new age and a brand new year full of laughter, love, and new friendships!
2.  always remind myself each year on this special day of how lucky I am so lucky to have been given another 365 days to experience the wonders of this beautiful world! God is good! This day is a day I will love and cherish.
3. Every single birthday, I pinch myself to make sure I'm not dreaming. I feel blessed to have incredible friends and family, and I am so grateful to have people like you in my life!
4. It is my favourite kind of day; I honestly can not wait for lots of laughs, lots of cake, and lots of love. Happy Birthday to my dearest self!
5. A Happy Life, Happy memories, Happy thoughts, Happy dreams. Happy Happy Birthday!
6. Today, I'll have my cake and eat it as well! It's my birthday! Calories should be non-existent on birthdays!
8. It was a lovely day for a birthday! A lot of fun and laughter had by all. You sure know how to make a girl feel really special! I really can't wait to see what adventures this year will bring!
9. Today is a day that I'm going to party harder than ever before because it's my birthday!
10. After another year on this earth, I'm thankful to God for he has blessed me so much- and that I'm a blessing to others. Happy birthday to me.
11. It's a beautiful day for anyone and everyone to wish me a happy birthday. So, happy birthday to my new self
12. Today I'm going to party hard like I have all the right excuses- yes I do! It's my birthday. Happy birthday to me. Look out every one; this party animal has been let off the leash.
13. There comes a time in everyone's life when you try your best to hide your birthdays! That's why I'm whispering happy birthday to me so no one else can know my real age!
14. Some people become more beautiful as they grow old. Maybe this is the reason why I can't stop being beautiful. Happy birthday to me!
15. As I am becoming more mature every year, I am starting to realize one great truth. Legends don't come on this earth in great numbers. They are rare, just like me. Happy birthday to me!
16. More money, more joy, more smiles is what I wish for myself on my birthday. God bless me always.
17. I am coming to terms with the fact that loving someone requires a leap of faith, and that a soft landing is never guaranteed. But Who the hell cares, I love myself, Happy Birthday to Me.
18. May this day bring countless happiness and endless joy and live with peace and serenity to me!
19. God has been more than good to me. He made me special and even more special on this special day. Happy birthday to me.
20. Sometimes I wish that I could really change this world, but then I realized that God created only one version of Myself, otherwise, the task would have been Done Until Now, Happy Birthday Sexy.
21. For the past 364 days, God has kept me alive until today. And I'm wishing He protects me more as I embark on another 364-day journey. Happy birthday to me.
22. Relationships are the currency of leadership; without people, an organization would lose its purpose and value. The same is with me; my relationship is with my Happiness and smile, Which I hope will keep alive all the time. Happy Birthday Mr Awesome.
23. I plan on having an amazing, awesome, super, fantastic year full of many new adventures and crazy travels! My birthday means I'm another year older and another year wiser! You better watch out!
24. You understand me more than I can even understand myself. I could never thank you enough for all that you have done for me. Happy Birthday to the best friend in this whole world and it's me.
25. I'm mature enough to realize that I'm still a child. Happy birthday to me. Still, a long way to go!
26. The more birthdays I have in my life, the more deeply I fall in love with myself. Who said numbers don't matter? it's my birthday again.
Inspirational Birthday Prayers/ Messages to Myself
Glory to you, my Lord. Praise for all the miracles you have shown in my life. On my birthday, I pray to you and ask you to forgive me all my sins. Amen!
I have become wiser, and now I know that was a part of a miracle done by you, God. Bless me and let me live happily, feeling your love and care. Read more:
God, you gave me life on the day I was born, and I aim to spend the rest of my life doing everything I can to show you my love and thanks!
Through all these years, God, I feel your love and care. I hope that today you look at me and feel my love.
God, you have bestowed upon my health and joy. Assist me in achieving all of my life goals. All of my victories are dedicated to you, my Lord.

All years I have asked you, God, to stay close to me, take care of me and never forget about me.

Please, God, protect me on all of life's paths; please let me be successful in my love to you. Amen!
As I celebrate my special day today, I pray that the creator of heaven and earth would bless me with all of the earth's riches, allowing me to shine as brightly as the sun.
I pray for long life and prosperity as I become a year older today. As I become a year older today, I pray for God's mercy and grace in everything I do. Amen.
As I start another year, send me helpers from above, dear Lord. Let me enjoy your love in my life all around. Amen.
I pray that this new year shall be the best year of my life and the ones following better, in Jesus' name. Amen.
As I grow older, I pray for incomparable wisdom in all that I set my heart to do. Amen.
As it's my birthday, I pray that I never stop experiencing the wonders of God in my life. Many happy returns of the day to me.
As I clock another year, Lord, I pray for you to guide me, love me, forgive me, and do what no man can do in my life. Amen.
Divine love and mercy is all I ask you, my dear God, on my birthday. Forgive my sins and let me live my life happily. Amen!
Facebook Status Update for My Birthday
My birthday is today! I'm optimistic about the future as I work hard to correct my flaws and build on my strengths. For another year, I am grateful.
Wishing myself a wonderful birthday filled with all of life's love, joy, and blessings. I consider myself extremely fortunate to be happy, healthy, and alive today.
Here's to another successful year. God has been loyal to me throughout my suffering, hardships, and concerns, and has added another year to my life. My birthday is today!
My birthday is today! I'd rather be at home with my family than somewhere else. I'd like to express my gratitude for their consistent support throughout the years! To be honest, I'm thankful to be alive and surrounded by loving family and friends.
I'm wishing myself the happiest birthday ever! I pray that God's love and blessings for me will be limitless today.
My birthday is today! May my wonderful existence be surrounded by countless opportunities forever.
May I be surrounded by infinite joy on my birthday and every day of my life. I wish you a very happy and prosperous birthday!
Short Birthday Quotes
"The years may wrinkle our skin but not our spirit." –
"I don't know how to age gracefully so I will just keep partying like it's my birthday."
"I am officially one year older, Happy Birthday to the great person I am becoming and cheers to a new year ahead."-
Another year older, stronger, and happier. Happy birthday, self!"
"Embracing this new age with open arms. Happy birthday to me!
"Getting older but feeling wiser. Happy birthday to me!"
"Another year older, stronger, and happier. Happy birthday, self!"
Celebrating another year of awesomeness today!"
"It's my day, and I'm going to make it amazing
I'm a year older and another year more intelligent, gorgeous, and talented than ever! Happy Birthday to me!
You are one of a kind, You are beautiful, You are intelligent, You are another year older and another year wiser! Woo hoo!
Also See: Facebook Dating Safety Tips
I know that I am equal to a fine wine or a delicious old cheese. The older, the better. I am excited to be another year older today! Happy Birthday to me!
Hope this was helpful, go ahead and copy as many as you can.