Facebook Not Eligible to Create Username – Is it difficult to create a username for your Facebook page? Not only have we been there, but we've also compiled some fast guidelines to help your Facebook page be eligible for a username.
You identify with a username in online communities like social networks and message boards. It's how other users in the community will recognize and respond to you.
Furthermore, it's simpler for others to track you down and get in touch privately.
A Facebook username is your online identifier and must be chosen when you first sign up for the service. Yet occasionally, Facebook users will get the "You are not eligible to create a username" error message.

When attempting to create a Facebook page's username, this error appears. If this happens, you may find it challenging to finish setting up your Facebook page.
In addition, you won't be able to customize your page's URL by including your username and will be limited to using the one Facebook generates for you.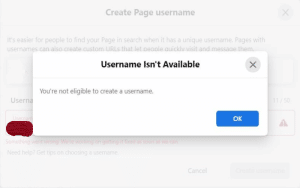 Is there a Particular Cause for this Error?
Yes. A few possible explanations for the Facebook error are listed below:
One of two things: your username is too short or too long. It should ideally be at least five characters in length.
The username must contain alphanumeric characters.
A user with the same username as you already exists.
At the very least, you must have one post on your page.
Create a unique username to use for your personal Facebook account.
It's important that your Facebook account is not newly created and has been verified.
You must not have recently created more than one Facebook page.
For you to be able to create a username for your Facebook page, it must have at least 25 likes.
Creating a username requires that you be the page administrator.
Facebook will only display the error message if the above conditions are not met.
Regrettably, Facebook does not explain why you are not eligible to create a username. As such, utilize the above explanations while identifying the error.
In addition, click here to view the guidelines for creating a custom username on Facebook.
How to Fix Facebook "You are not eligible to create a username" Error Message
The best approach to fix this error is to ensure that Facebook recognizes you as the page admin. In other words, add your Facebook account as an admin to the page.
Follow the steps below to fix the Facebook "You are not eligible to create a username" error message.
Please note that steps one (1) to eight (8) is for those who are not admin on their various Facebook pages but want to be the admin of their respective pages.
Login to your Facebook account.
A menu bar should appear on the left-hand side of the screen. Select Pages from the drop-down menu and load up your page.
Go to page Settings while on your Facebook page in the app or site.
Locate the option Page Roles and tap it.
Locate Assign a new Page role.
Enter your Facebook name or email address.
Switch from Editor to Admin by clicking the corresponding option, then tap Add.
As soon as you're done, go back to your Facebook homepage.
Locate Pages from the menu and tap it.
Tap the page to which you want to add a username and ensure that Facebook recognizes you as the page's admin.
Locate and tap Create @Username to add your preferred username, or scroll down and tap Edit Page info on the left-hand navigation menu on the page screen.
Enter the username; if it is available, click Create a username.
Also, the old username can be replaced with a new one now. To successfully alter the username, you must ensure that you are the page's admin. Click here to learn how to change your page's username.
We hope you find this information helpful. Please use any of the share buttons below to share this information.
Feel free to drop any questions or contributions regarding this article in the comment section below.
More reads:
Facebook Dark Mode Settings – How to Enable Dark Mode on Fb App
Unblock Facebook Friends – How to Unblock Someone on Facebook