Is Playsee a Dating App?
No, the Playsee app is not a dating app; rather, it allows you to discover new places and meet people in the same neighbourhood with similar interests.
What is the Playsee App?
The Playsee app is a fascinating platform that allows you to interact with over 10 million users worldwide and discover new locations, activities, and people through your profile and feed.
This app aims to help you branch out and do new activities, find new sources of motivation and inspiration, make new friends, and see new places that may become some of your favourites.
Additionally, Playsee enables you to share reels, which are brief and standard videos that let you showcase your experience, the location you went to, and the people you met.
Again, you can initiate community talks using the recently launched Playsee board feature, which can also be utilized to get in touch with locals.
Click here to visit Playsee's official website. The Android and iOS versions of the Playsee App are also available for download.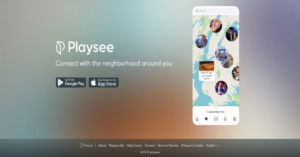 What kind of app is Playsee?
Playsee is a map-based social media platform that lets users discover hidden gems via local videos and message boards.
Is the Playsee App Free?
Yes, there are no costs associated with downloading or using the Playsee app.
Is the Playsee App Safe?
Yes, the Playsee app is 100% safe. It's a safe place to meet people with similar interests, learn about and try out exciting new activities, and discover fascinating new places. It is a community of more than 10 million users who just care about socializing and exploring.
In addition, the app does not require any sensitive information beyond what you voluntarily disclose when creating your account and profile, all of which are stored securely in the app's servers. As a result, using the Playsee app is completely risk-free.
Pros and Cons of the Playsee App
Pros of the Playsee App
The app runs smoothly, and bugs and glitches are hardly encountered.
It is a safe social platform.
Video maps have accurate judgment.
You can share the reels and messages on other social media sites or platforms and receive recognition thanks to Playsee's systematic presentation.
Cons of the Playsee App
The app falls short in terms of keeping your identity secret from other users.
Poor response time from customer service support.
How do I find someone on Playsee?
Go to the Find Friends section or the account settings and input your phone number to make it easier for you to get in touch with your friends. To help you and your friends locate each other, Playsee will sync your phone book or contact list.
How many people use Playsee?
Since its inception, Playsee has evolved into a global community of 30 million users, bringing people closer in the neighbourhood or local communities, that is, fostering community interaction.
How old do you have to be to use Playsee?
To utilize their service, you must be at least 13 years of age. Playsee requires a user's birthday to prevent individuals under the age of 13 from signing up and utilizing the service and to give their younger users a safer atmosphere and experience.
Who owns the app Playsee?
Framy Inc. owns the Playsee App.
How do I use the Playsee App?
Playsee is a map-based social media platform that lets you discover hidden gems via local videos/reels and message boards. All you have to do is go to a new place, shoot a reel, and share it on your feed so that other people in the community will know about the place based on location.
If you are unsure about shooting reels, you can use the message board to share the location, reviews, and other important details about the place.
You can share activities, restaurants, hotels, services, and other locations in the community and also discover the same in your neighbourhood or a new city or nation you are visiting.
For those who are watching and exploring, the video map will be the first thing you see when you launch the app. The balloons that appear on the map are stories, also known as reels, that individuals have uploaded on those locations. To watch the reel, tap on the balloon, and you can see the video.
Click here to get more information about how to use the Playsee App.
Playsee vs TikTok
One of the alternatives to TikTok is Playsee. It, too, is mostly concerned with short videos, much like TikTok. However, unlike TikTok, it's more for showing other people around your area rather than posting random dancing videos, though those do exist as well.
Also check:
Can Dating during Divorce affect Custody?