Facebook Messenger Stuck On Sending: We have specially made this guide for you on troubleshooting and resolving Facebook Messenger stuck-on-sending issues.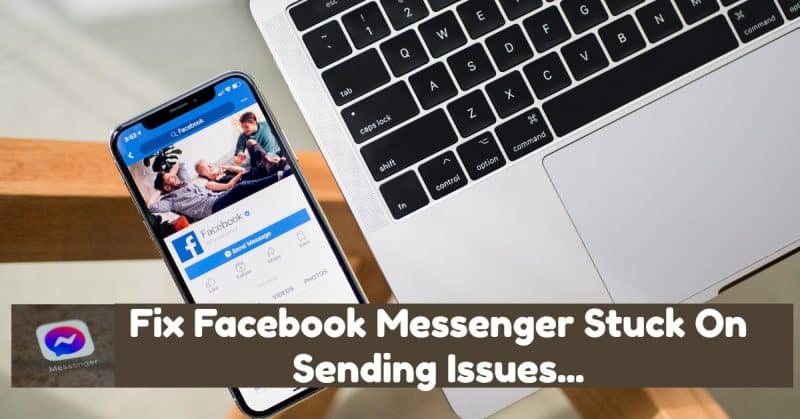 This article contains several fixes for when Facebook Messenger cannot send a message successfully, both on the website and the official Facebook Messenger app. These remedies can be utilized when a message is stuck on sending, Facebook Messenger seems offline, or a DM has been sent but does not appear to have been delivered successfully.
Why is Facebook Messenger Stuck On Sending
Facebook Messenger remains a key component of Meta's social media strategy.
It enables you to message your contacts. Sometimes, users might face Facebook Messenger not sending messages or not opening at all.
A number of circumstances can cause Facebook Messenger to stop transmitting messages (i.e., Facebook Messenger Stuck On Sending). The factors responsible for this problem are as follows:
The Facebook Messenger service (server) is experiencing problems or is currently unavailable.
Your internet connection has issues. We mean Sender's network connectivity.If your Facebook Messenger message is stuck on sending, it could be that your network connectivity is very poor. Sometimes it may show "Waiting For Network. "You will need a strong wifi network or internet connection in this case.
There may be restrictions imposed on your Facebook account by a contact.
Restrictions by Facebook support can be the reason.
An out-of-date Facebook Messenger app or operating system.
How to Fix Facebook Messenger Stuck On Sending Issues
It can be so frustrating when you experience Facebook Messenger stuck on sending issues. But don't despair. There are solutions for such issues.
To fix any ish, we must first identify the cause of the problem. And as such, we will guide you through identifying the issue and fixing the problem without stress.
Here are all of the best fixes for Facebook Messenger not sending messages (Facebook Messenger stuck on sending issues):
1. Check to see if Facebook Messenger is down (that is, offline).
You may be experiencing Facebook Messenger stuck on sending issues, likely because the entire Facebook service, or sections of Facebook Messenger, are down or experiencing problems.
2. Check that you are using the official Messenger app.
Some other messaging apps or the main Facebook app may behave differently than the Messenger app. These could be responsible for the Facebook Messenger stuck on sending issues.
3. Examine your internet connection.
If your phone is having network-related issues, then Facebook Messenger won't send messages. You can reset the network settings on your phone and try your luck again.
But first, examine your device's internet connection. The simplest way to accomplish this is to open a web browser and navigate to a website other than Facebook or to use an app that requires an online connection, such as Twitter.
If your internet connection is down, make sure you restore it before retrying to use Facebook Messenger to send messages.
To reset your internet connection, open the Settings app on your phone and search for Reset Network settings. Select it from the search results and reset the network settings on your phone.
4. Use a cellular connection instead of a wifi Network
Because your wifi internet connection may be having problems, switch it off and try sending a Facebook message while on your 4G or 5G network.
5. Change your internet connection to wifi (if you were using your cellular connection)
Your cellular network provider may be offline or overloaded. Turn off your iPhone or Android smartphone's mobile connectivity and attempt sending a message again through Facebook Messenger.
6. Turn on and off Airplane Mode
Depending on your platform, you can enable Airplane Mode: Wait one or two minutes after activating Airplane Mode on your Android smartphone or tablet, iPhone or iPad or Windows before deactivating the mode. This will reset your internet and cellular connections and is known to resolve Facebook Messenger stuck-on-sending issues.
7. Switch off your VPN.
VPNs can occasionally disrupt the internet connectivity of some apps. Turn off your VPN, and you would have succeeded in fixing Facebook Messenger stuck on sending issues.
8. Close and restart Facebook Messenger
Close the Facebook Messenger app completely (not simply minimize it).
The procedure for completely closing an app differs depending on the platform: iPhone or Android. But it is pretty simple to close your Facebook Messenger app. This simple act of closing and restarting the Facebook Messenger app can fix your Facebook Messenger stuck on sending issues.
9. Restart your device
A simple restart can resolve a variety of app and system issues.
It's worth noting that the restart procedure varies based on the device you're using. Press your phone's restart button, wait for the restart process to be completed and make sure you have a steady internet connection. After which, open the Facebook Messenger app and resend the message. With this, you will succeed in fixing the Facebook Messenger stuck on sending issues.
10. Update the Facebook Messenger app
To ensure you have the most recent version, check for app updates on your Android smartphone, iPhone or iPad, Mac, or Windows PC.
Check out our Facebook Messenger App Download Install – Chat Messenger Lite Download 2022 here.
11. Update your web browser
If you're attempting to send a message to a friend via the Facebook website and the message fails to send, check your browser's settings or About menu to see if an update is required.
If you're using a web browser app on a smartphone or tablet, you can check for app updates in the app store on your device.
12. You should update your operating system
Your operating system must be updated depending on your platform or device: macOS, Windows, iPhone, or Android. By successfully update of your OS, you should be able to resolve the Facebook Messenger stuck-on-sending problems.
13. Check Facebook to see if you've been unfriended
Most people limit Facebook messaging to only friends. If you find yourself unable to contact someone via Facebook Messenger, it is possible that they may have unfriended you. Check to see if you are still friends with the fellow. That could be the reason why your Facebook Messenger is stuck on sending the message.
14. Check to see if you've been blocked on Facebook
If you are unable to communicate with someone on Facebook because their name does not appear when you search for a contact, it is probable that they have blocked you. The best thing to do is to check if you have been blocked on Facebook, as you can not message the person if he blocked you.
15. Check Facebook Messenger to see if you've been blocked
If you can engage with someone on Facebook but can't send them a message, they may have restricted your access to messaging them while leaving the rest of the social network unblocked.
Confirm if this is the case. Facebook Messenger stuck on sending issues could be a result of it.
16. Clean up your Facebook profile and behavior
If you message too many accounts, send abusive messages, or own a suspect account, Facebook may temporarily restrict Messenger privileges.
To restore access, make sure your account has your genuine name and photo, avoid posting contentious stuff on Facebook, avoid conflicts, and wait for one to two weeks for the restrictions to be lifted.
17. Turn off Low Data Mode
Facebook Messenger may be unable to connect to Facebook's servers if Low Data Mode is enabled. Disable low data mode and try resending the message to resolve Facebook Messenger stuck on sending issues.
We're not referring to your phone's default Data Saver setting. Facebook Messenger includes a data saver mode. If you're using Messenger with Data Saver mode enabled, it's time to turn it off. This is how to turn off low data mode:
Launch Messenger on your phone and navigate to the Settings menu.
From the Preferences menu, select Data Saver.
From the following screen, disable Data Saver mode.
18. Enable background data usage
Are you attempting to share huge media or files over Messenger over a mobile network? You should enable background data usage for Messenger. Otherwise, the OS might kill/pause the app in the background.
Here are the steps to enable background data usage:
Long-tap the Messenger icon to access the app information menu.
From the Usage menu, select Mobile Data.
Turn on the Allow background data usage switch.
19. Allow data usage while data save mode is on
This applies to those using Android phones with Data Saver mode enabled. If you want Messenger to function properly under Data Saver mode, you need to give it unrestricted access. Here is how to allow data usage while data save mode is on:
Go to the Facebook Messenger app info menu.
Select Mobile data and enable Allow data usage while Data saver is on the toggle.
20. Activate Background App Refresh
Activating background app refresh can help you fix Facebook Messenger stuck on sending issues.
Here is how to turn on the background app refresh:
On iPhone, select Settings > Messenger and enable Background App Refresh.
Android smartphones and tablets have different background app settings.
21. Install Facebook Messenger again
Uninstall and then reinstall the Facebook Messenger app on your iPhone or Android smartphone. This method can occasionally remove any message-send-error messages or bugs.
Reinstalling Facebook Messenger can help fix Facebook Messenger stuck-on sending issues.
22. Clear the cached data on Facebook
Clearing Facebook's cached data can improve several of the app's key services' functionality, including Facebook Messenger.
23. Send a message using Facebook's website to fix Facebook Messenger stuck on sending issues
If you're having problems sending a message through the Facebook Messenger app, try sending it through the main Facebook website in a web browser app instead.
24. Clear the cache in the web browser app
If you are still unable to send a message on Facebook when using a web browser, deleting your browser's cache may resolve the issue and improve overall browser speed.
25. Reset the network configuration/settings
Resetting your device's network settings can resolve a wide range of internet connection issues across various apps. With good internet connectivity and an up-to-date Facebook Messenger app, you should be able to resolve Facebook Messenger stuck-on-sending issues.
26. Consider using the Facebook Messenger Lite App.
Facebook has overburdened the Facebook Messenger app with functions and features. It works well on high-end phones, but on low-end CPUs, you may experience intermittent hiccups.
Facebook is aware of the situation. As a result, the Facebook Messenger Lite app for Android has been released. You may utilize it and enjoy all of the features available in the Messenger app.
The Messenger Lite app, as the name implies, requires only a few MBs of storage space on the phone.
Facebook server down? Causing Facebook Messenger not to deliver messages?
Facebook Messenger data center could be down. This could be the cause for Facebook Messenger stuck on sending messages problems.
This is not necessarily a global issue. Depending on which data center your region belongs to, you may occasionally experience Facebook server being down. You will almost certainly encounter a glitch if your data center experiences one. This can even result in your Messenger home page loading without your chat history.
It will just take a few hours for Facebook to correct it. You don't need to be concerned about it. There is also a unique approach to changing locations by using a VPN app. You can also use Facebook for the Web on a PC, Mac, or mobile browser.
Facebook Messenger message sent but not delivered; delivered but not read Issues.
If your Facebook Messenger message is sent but not tagged as delivered, or it has been delivered but has not yet been read, it indicates that your chat has not yet been read by the recipient.
However, if your message was sent but has not yet been delivered for days despite the fact that the person to whom you sent it appears to be online, your message
was purposefully ignored or restricted
has not yet been approved by Connection Requests or Message Request
the recipient is currently offline
or the recipient has not installed Messenger.
Must Read: How to Fix Facebook Messenger Messages Sent But Not Delivered
Conclusion:
When Facebook Messenger stops sending messages, you may be forced to look for alternatives. Before you use WhatsApp, Telegram, or Signal, try the solutions listed above to resolve the Messenger not delivering messages issue on the go.
Do well to let us know the method that helped you resolve the Facebook Messenger stuck-on-sending issue.
And please, share this article with others who may be facing the same issue.
Thank you.
Recommended:
How to Remove Contacts from Facebook Messenger
Play OMG Games On Facebook Messenger – OMG Messenger Game On Facebook Games
Datevast Facebook Commentss