This article explains How to Enable the Facebook Dating App for Both New and Existing Users
Dating apps have grown in popularity in the digital age. With so many alternatives, it's no surprise that many users are turning to dating apps to meet new people and possibly find love. There are numerous dating applications available, but one of the most popular is Facebook Dating, a platform that connects people looking for meaningful connections.
Whether you are an existing Facebook user or a newbie, enabling and navigating the Facebook Dating app is simple.  But before we delve into detailed steps on how to enable it, ensuring that both new and existing users can take advantage of this exciting service, let's dive deep into what Facebook Dating is all about.
What is dating on Facebook?
If you've ever used Facebook, you already know what dating is. Still, in case you don't, dating is a social process in which two people spend time together to get to know one another and determine whether they want to start dating.
As more people choose to find a significant other online rather than in person, dating apps have become incredibly popular.
With the launch of its dating app, Facebook, one of the most widely used social media platforms in the world, appears to be the ideal option for singles seeking online dating.
You can meet single people who are looking for love thanks to the new app Facebook Dating. It is not a stand-alone application distinct from the main Facebook application. Your friends can't tell if you're using the feature because it doesn't share your data with them.
How to Enable the Facebook Dating App for New Users
Follow these steps to enable the dating feature if you're new to Facebook or have never used it before: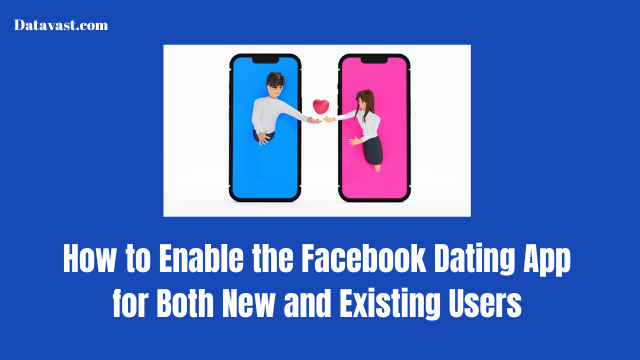 1. Create an Account
The first step is creating a Facebook account. If you don't already have one, You must have a Facebook account in order to use Facebook Dating. Visit the Facebook website or download the mobile app to sign up if you're not already a user and fill out the required fields.
2. Set Up Your Profile.
After creating your account, spend some time setting up your Facebook profile. To aid the dating app in suggesting potential matches, include your interests, a profile picture, and personal information.
3. Navigate to Facebook Dating
After creating your profile, click the heart-shaped icon that is typically located in the Facebook mobile app's navigation menu to access the Facebook Dating feature.
4. Create Your Dating Profile
As soon as you launch the dating app, a request will appear for you to do so. Include information about yourself, your preferences in relationships, and more photos. The app will use these details to pair you up with compatible people.
5. Start messaging and matching
With your dating profile created, you can start looking through potential matches based on your preferences and interests. Sending a message through the app is a great way to start a conversation with someone you find intriguing.
How to Enable the Facebook Dating App for Existing Users
Enabling the Facebook Dating App for Existing Users is simple and straightforward; follow these steps:
1. Update Your Facebook App
Make sure your device is running the most recent version of the Facebook mobile app by updating it. Check for updates and install them if necessary by going to the app store on your smartphone.
2. Enter your Facebook login information
 Open the Facebook app and sign in using your current information.
3. Access Facebook Dating:
Find the heart-shaped symbol in the navigation menu or under the "More" button on the Facebook app's main screen to access Facebook Dating. To access Facebook Dating, tap on it.
4. Create Your Dating Profile
Existing users must create a dating profile within the app, just like new users. First, please include your background, interests, and preferences.
Once your dating profile is complete, you can start looking through possible matches and starting conversations with individuals that capture your attention. Confirm that the most recent version of the Facebook mobile app is installed on your device.
FAQ
Is Facebook Dating free?
Yes, using Facebook dating is totally free. This implies that downloading the app and setting up an account are both completely free. You can use Facebook dating to locate a new partner and make new friends.
Many people believe that you can make some in-app purchases, such as buying additional Boosts when you want to attract more attention or subscribing to Plus, which gives you exclusive benefits when using the app. You can also boost your profile when you want to make sure other people see it.
The speculation that was just made is untrue, though. For its users, Facebook dating is totally free.
Do my Facebook friends have access to my Facebook Dating activity?
The short answer is no. Your Facebook Dating activity is completely separate from your main Facebook profile. Your dating profile, matches, and chats are inaccessible to your Facebook friends, and your dating preferences have no influence on the content of your primary Facebook account.
Conclusion
Whether you're a new or existing user, enabling the Facebook Dating app is a simple step that can lead to exciting opportunities for lasting connections. You can join Facebook Dating and begin searching for potential mates who share your interests and values by following the instructions in this article.
Thats all.
Read related
Delete Facebook Messages Fast – Facebook Fast Delete Messages Extension App
Facebook Dating Site Near Me – Dating on Facebook for Free Singles
Facebook Dating Singles Group Near Me – Meet Facebook Dating Singles Online